Payment model
Unfortunately Salesforce doesn't allow us to receive payments through bank transference.
The application's payment model is based on a yearly subscription of 40€ per company per month (billed yearly), the payment is done directly through the Appexchange listing via the Salesforce checkout process in which you'll be asked for your credit card information when making the installation on your production org. We will send you an invoice when the trial period expires and the payment is done.
Manage Currency Updater account and subscription
You can manage your Currency Updater account by going to the "My Account Page" on the AppExchange page. Here you will see all your account and subscription information.
Does Currency Updater integrate with Salesforce CPQ?
The app uses the standard Salesforce functionality. Find below a summary of Salesforce manage currencies:
Salesforce CPQ uses standard currency exchange management. We know that some objects, for example, Quotes, are customized when CPQ is used, which means that in Salesforce there are two types of currency configurations: Basic Currency and Advance Currency (Dated); custom objects are only supported with Basic Currency.
The difference between using Basic Currency Exchange Rates and Dated Exchange Rates is that the former has no history associated with it. However, when your org makes changes to a Dated Exchange Rate, the history is preserved for tracking. This is especially helpful when exchange rates fluctuate significantly.
When a change is made to the Basic Exchange Rate, there's no history logged to the previous rate. This change affects all opportunities, forecasts, and other amounts that use the current conversion rate; something which can significantly affect profit projections based on opportunities stored currently in the system. This is more likely to have a major impact on large, multi-national companies than on small businesses.
Currency Updater allows you to update the exchange rates for your Salesforce organization's currencies automatically, on a periodic basis. You can choose the update frequency, source, time, and exchange type (Basic, advanced, or both).
What about documentation? Where can I find any material for this App?
Here, you can find the most relevant solutions to your issues. We will keep updating this FAQ page with your new questions.
And if I have any problem, how does Currency Updater Pro notices me?
After hearing your comments about this matter, a Status Log in the app has been added. Anyway, if you have any questions about the app, we encourage you to write to our developer team, who is awesome and will be pleased to help you: support@axy7.com
Change Credit Card Information
1. Go to the AppExchange.
2. Click on Log In (top right-hand corner) and introduce your credentials, if needed.
3. Click on the picture (top right-hand corner) and click on "My Installs & Subscriptions".
4. Locate "Axy7 Automated Currency Updater PRO" and on the right side, click on the arrow and "Manage Subscription".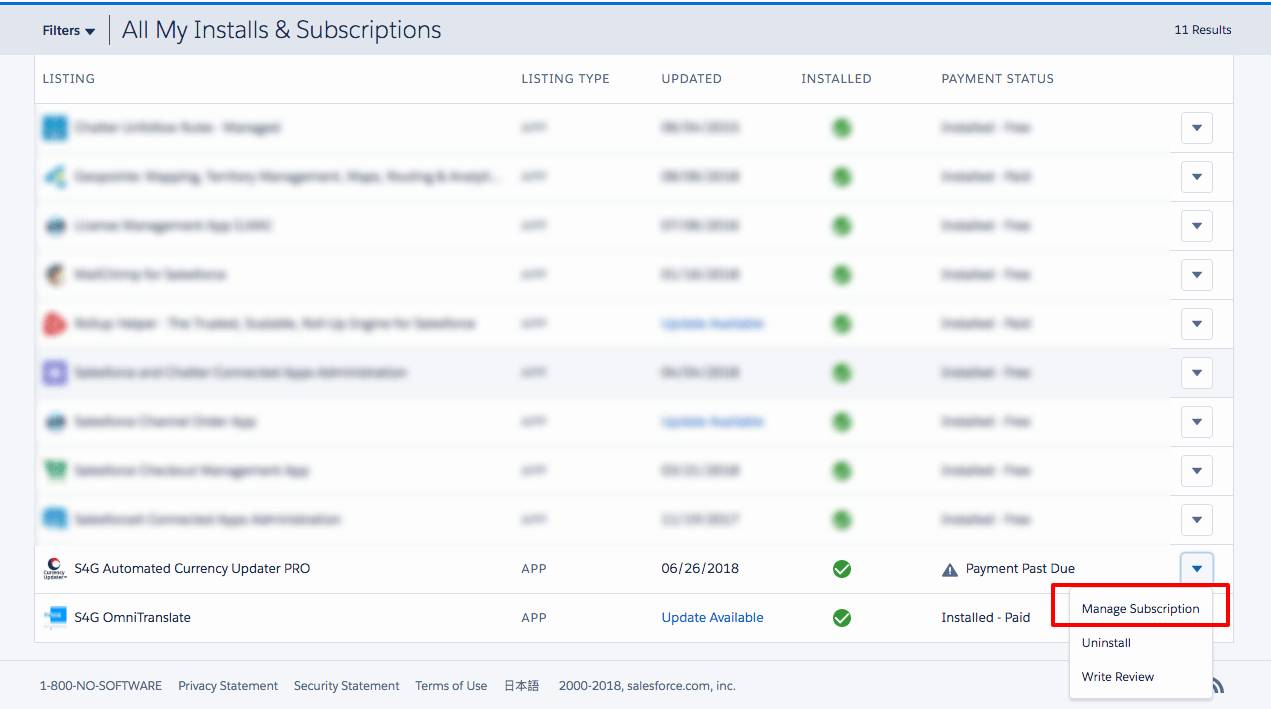 5. Clic on the "Edit" button (tab at the bottom)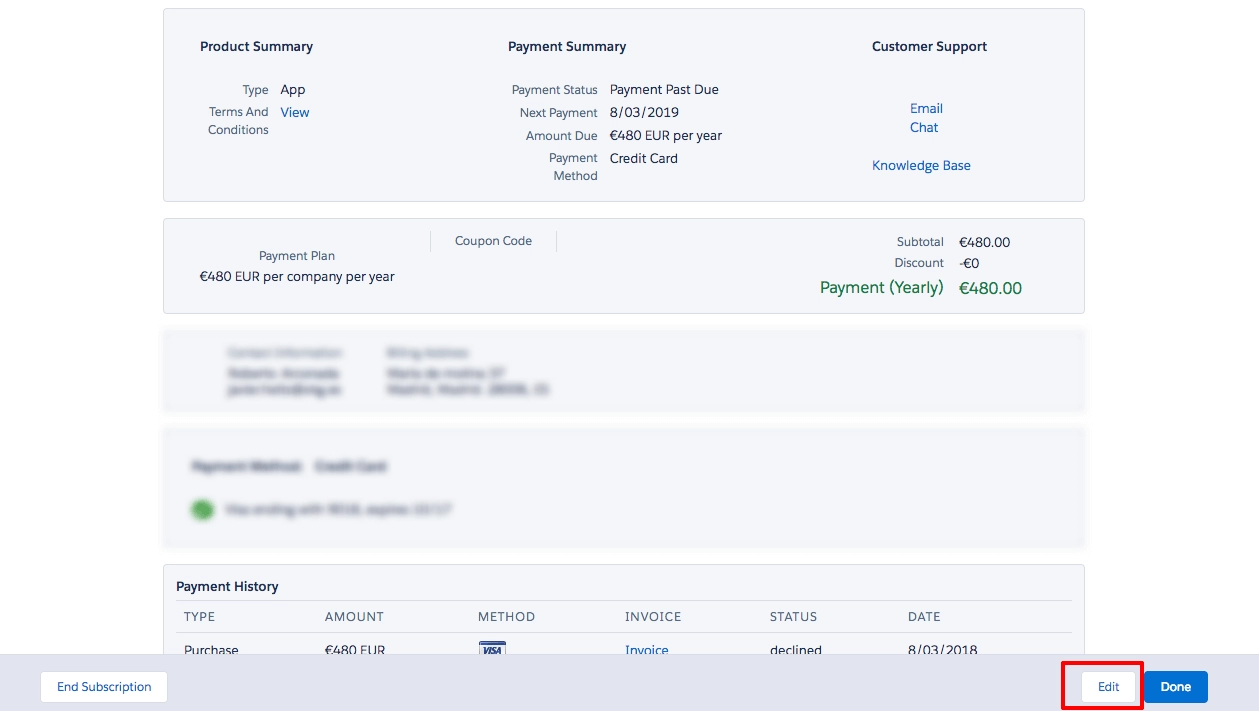 6. Click on Edit Payment.
7. Introduce the new credit card details and click on Review Changes and Save.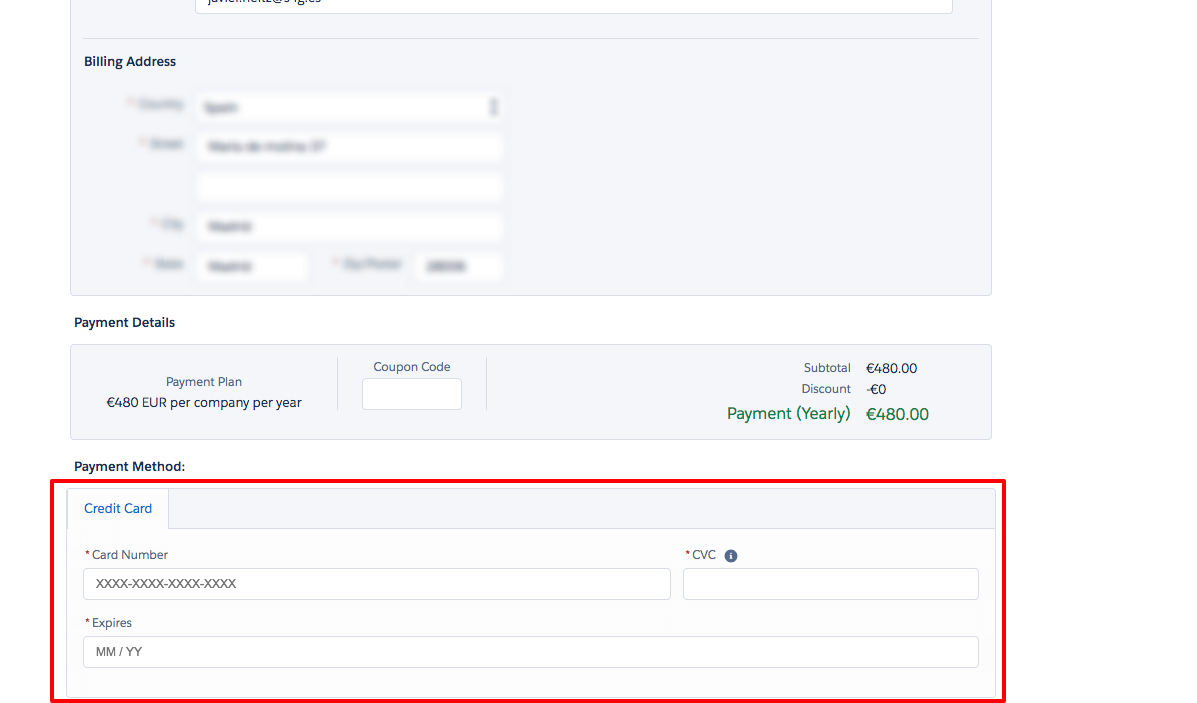 Can't find dated exchange rates for custom objects logs
The tab may not display if you already had the application installed and just made the update. Follow these steps to display the tab:
1. Go to Salesforce Setup.
2. Go to App Manager.
3. Go to the Currency Updater app, and click edit.
4. Add the Dated Exchange Logs tab.
5. Click Save.