SHARING REPORTS & DASHBOARDS FOLDERS IN AXY OKR
When you install Axy OKR, the application contains several reports and dashboards that should be shared manually with other users.
There is an easy way to share reports and dashboard with every Axy OKR user. If you have an internal group of users, then see this short video on how you can make it.
If you want to share with several users, groups or roles and manage them one by one, you must follow these instructions:
On the Reports or Dashboards page, find the report (Axy OKR Reports) or dashboard (Axy OKR Dashboards) folder you want to share and select the Share row level action. (If you have customized columns on the page, you might have to scroll to the right to see the row-level action arrow .) Alternatively, navigate to the report or dashboard folder, click  next to the New Folder button, and select Share.
From the Share With dropdown, select who you want to share with.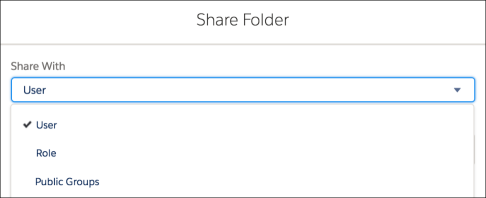 For Name, enter the name you want to match. The name must match the category (such as user, group, or role). For example, if you select User as the category, specify the name of a user.
Select the folder access level for the user, role, group, or territory.
Click Share. The sharing setting is applied to the Who Can Access list. Continue to add entries as needed.

You can share with users, groups, roles, territories, or a combination.
If a user is identified in more than one entity, the greatest permission is granted. For example, a group is added with view only, but a user in the group is also added with edit or manage permissions. In this case, the edit or manage permissions apply to that user.
To delete a Who Can Access entry, click X to the right of the entry.
To modify access level for an entry, select a new access level.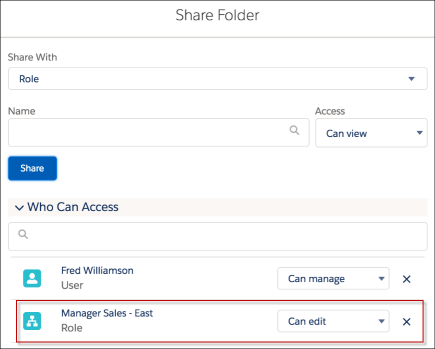 When you are done, click X in the upper corner of the dialog box to close it and return to the page you were on.
The folder is now listed on the Reports or Dashboards menu. You can select the folder when saving a report or dashboard.