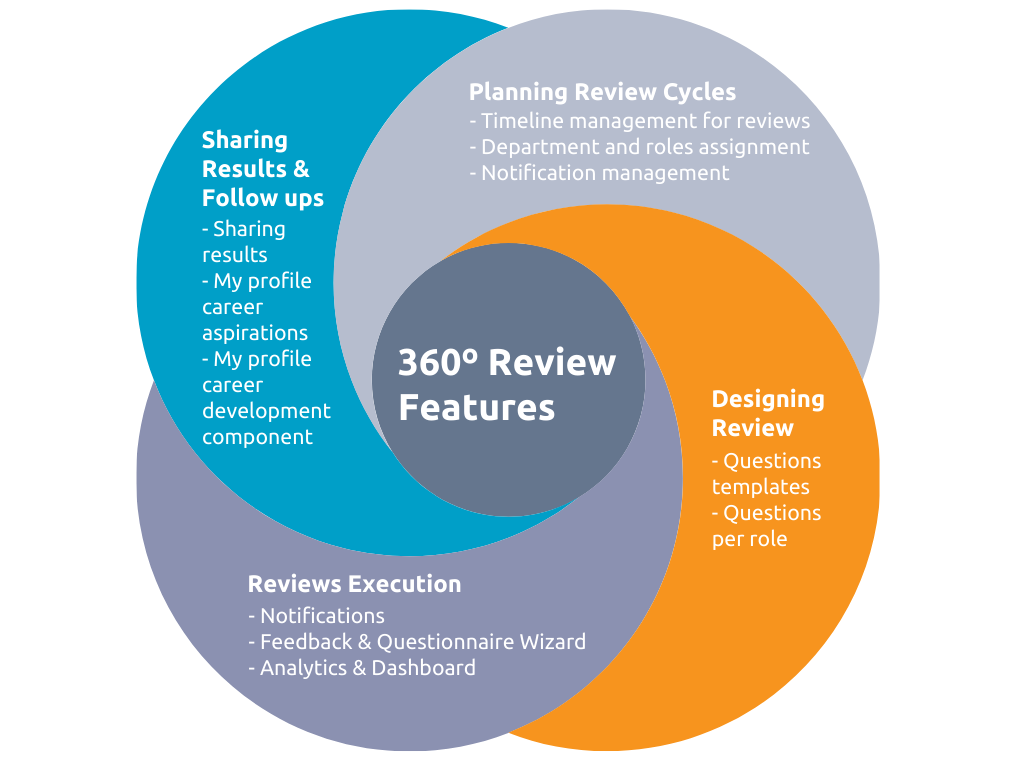 Perform 360° employee performance reviews right inside of Salesforce
Feedback
Customer & Other Feedback
Questions & Questionnaires
Reviews
Complete feedback overview

Advanced privacy settings
360 Feedback
The feedback module is where employees, managers, peers, subordinates, and others provide feedback during a review cycle. The Questionnaire tab shows the questions defined on the template for this review. You are also able to see the employee OKRs for the period, the OKR cycle they are in, their key results, and the progress they have achieved on every single OKR via a progress bar and percentage.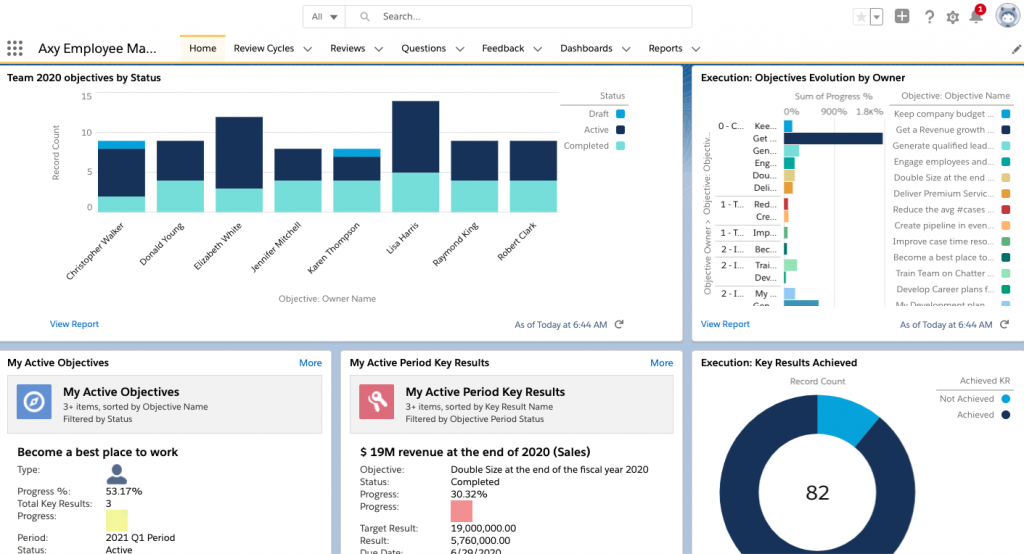 | | | |
| --- | --- | --- |
| AVAILABLE FEATURES | | VALUE |
| Self Feedback | | Perform self-assessments |
| Manager Feedback | | Get feedback from your manager |
| Peer Feedback | | Get feedback from your peers |
| Subordinate Feedback | | Get feedback from your subordinates |
| Customer & Other Feedback | | Get feedback from customers & other employees |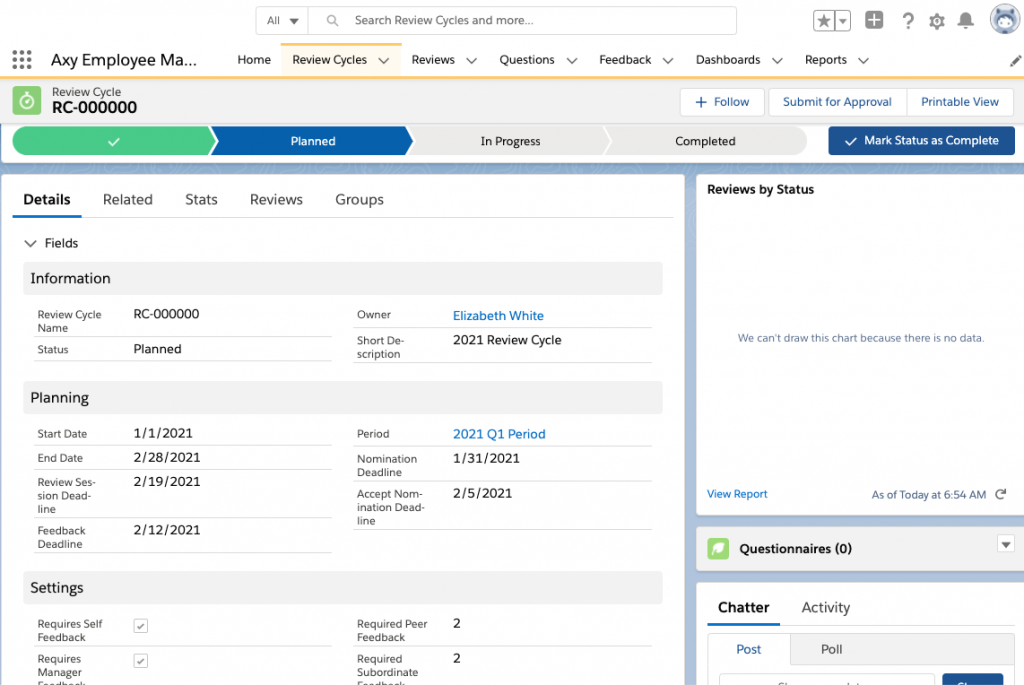 Review Cycles
The review cycle is designed for the person managing the review, usually someone in the human resources department (CHRO, VP of HR, Head of people, etc.). The review cycle includes a status bar that indicates the current stage of the review (Draft, Planned, In Progress, or Completed). There are also advanced settings for the review cycle that you could potentially want to configure for your cycle since they help filter participants in the review process (Groups to Include or Exclude – refers to public groups in Salesforce, Minimum Months of Service Requirement, and Random Subordinate Selection).
We have also included a stats tab with graphs that help you track the progress of the review cycle. There you will find information about: Reviews by status by date, Feedback reviews by status, Feedback reviews by Status & Respondents.
| | | |
| --- | --- | --- |
| AVAILABLE FEATURES | | VALUE |
| Custom Review Periods | | Determine how often you want to schedule performance reviews |
| Feedback Deadlines | | Set deadlines for nominations, accepting nominations, review sessions, and feedback |
| Custom Settings | | Decide whether you want to mandate self & manager feedback, as well as how many peers and subordinates to get feedback from |
| Statistics & Reports | | See graphs on the reviews by status, date, and respondents |
Questions & Questionnaires
Axy Employee Management leverages the Axy OKR Questions module to allow you to create specific questions that focus on the 360 review process. Just like in Axy OKR, every question you create will have an answers tab and an analytics tab that will quickly identify who has and has not answered the question. These questions can also be combined to create a questionnaire.

A questionnaire is simply a combination of different questions that get answered during a review cycle. Creating a questionnaire can help you ensure that employees with similar roles and responsibilities are reviewed objectively and equally. It can also simplify the process of improving reviews by easily adding or removing questions or roles depending on the results. A key feature of the questionnaire module is the option to quickly clone a questionnaire that you have already previously created. If you have a large team, you will find this very useful.
| | | |
| --- | --- | --- |
| AVAILABLE FEATURES | | VALUE |
| Custom Questions | | Create whatever questions you wish to ask in review cycles |
| Custom Questionnaires | | Combine questions to create specific questionnaires that you can distribute to different groups within your organization |
| Multiple Answer Types | | Choose from 4 different answer types for your questions: Text, Number, Checkbox, & Picklist |
| Analytics & Reports | | See graphs on the number of answers by question planned date |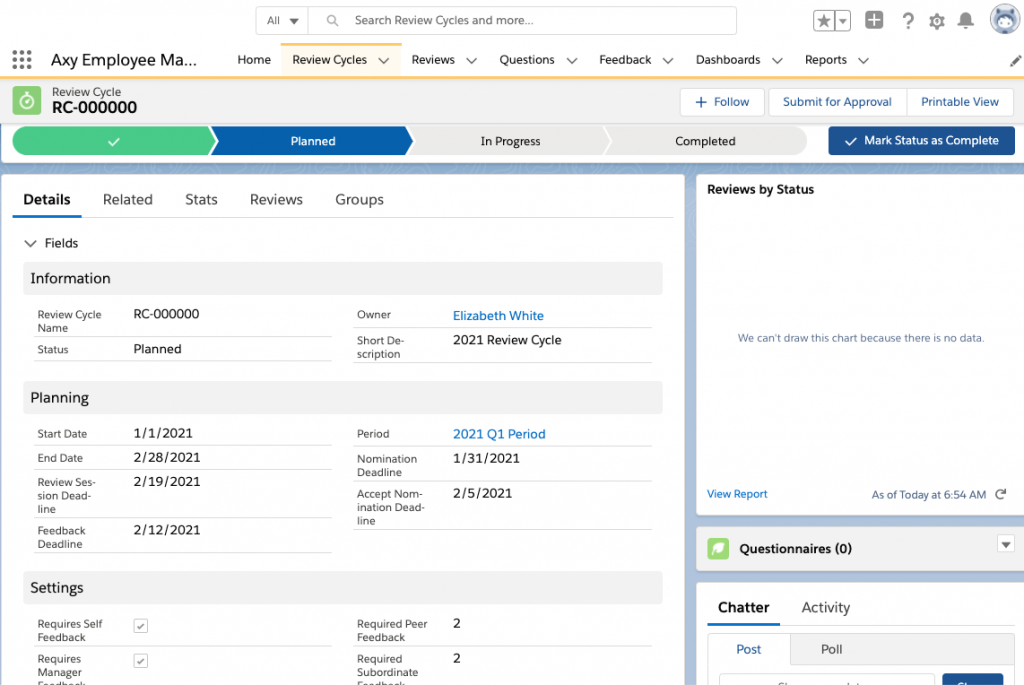 Reviews
The Axy Employee Management Review module helps you find all the answers and feedback of the different participants of the 360 review of an employee, including their own self evaluation, in a single module. This is extremely useful for the human resources department as it helps them get a clear view of the progress of each review and makes it easy to privately and securely share relevant information about them with management.
To ensure privacy and avoid any bias from the feedback of another participant, every user can only see and edit their own answers for their role in the review. The review module includes two fields that are really important: Manager Notes and Summary to Share. These fields handle sensitive information since they are private between the management and the employee. Once the review is complete, the results can be easily shared with the employee by just clicking the Share Summary button.
| | | |
| --- | --- | --- |
| AVAILABLE FEATURES | | VALUE |
| Complete Feedback Overview | | See every answer that was given by every participant during the review cycle |
| Advanced Privacy Settings | | Users are only able to see their own answers and not anyone else's. This removes any possibility of bias |
| Manager Notes | | Add in private notes for reviews that only the manager and employee being reviewed can see |
| OKR Integration | | Connect any review to a career development OKR within Axy OKR |