Axy Validator: easy rules for data validation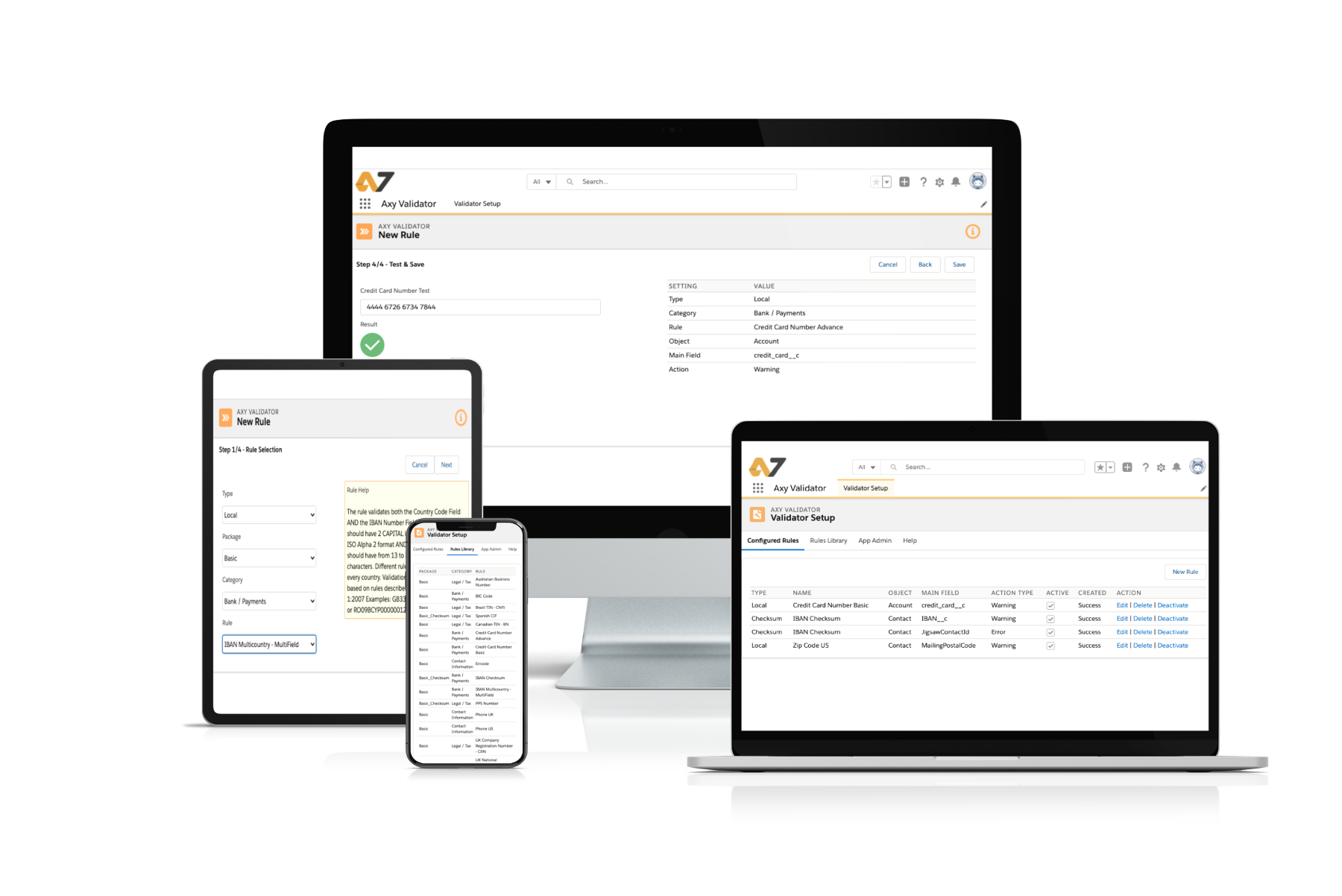 Warning and error actions
About Axy Validator
Is an Appexchange application that will provide you with common or complex validations to improve your salesforce data quality and maximize your business performance. Axy Validator is easily installed and configured by your Salesforce Administrator, just with a few clicks.
Total validations set
Axy Validator has the most useful business validations to use on any Salesforce standard or custom object, such us: IBANs, Credit Card Numbers, USA Social Security Number or European VAT Numbers.
We validate IBANs for more than 75 countries and VAT for 28 countries of the European Union, and for other 15 countries in Europe.
See validation rules library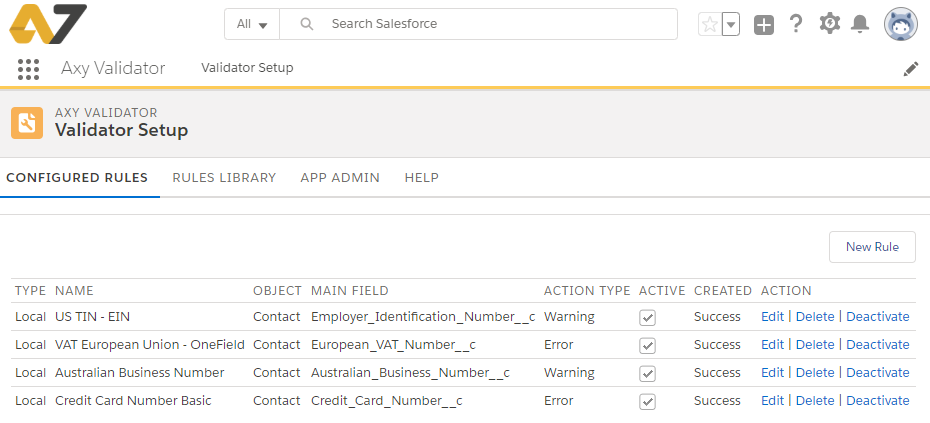 Ready to use
The validation rules come from official organizations and standards, and Axy7 continuously works on updated versions.
You only need to choose the rule you want to use and apply it to the relevant data for your processes, obtaining the data quality that your business needs.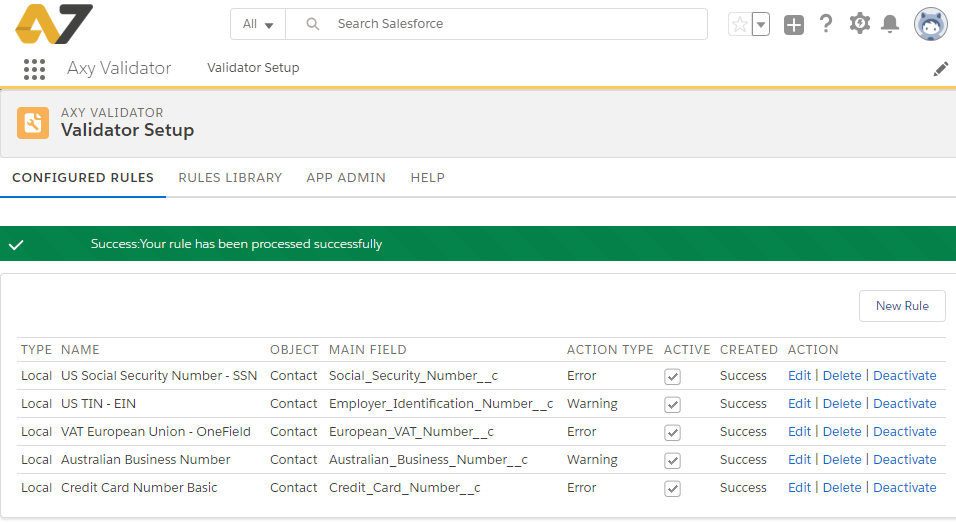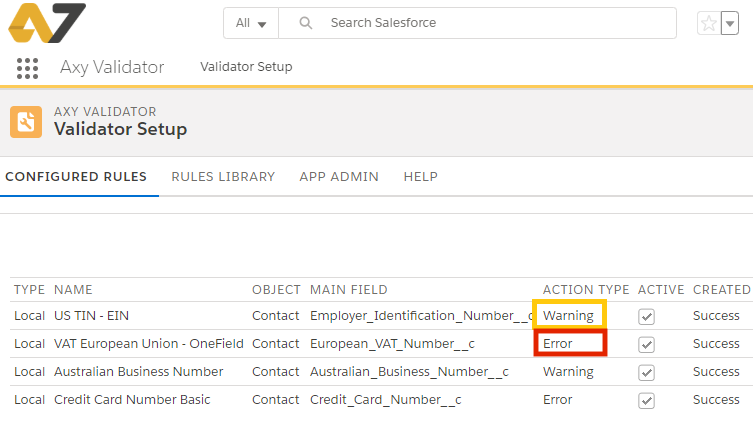 Flexible actions
Improving the classic Salesforce Validation Rule functionality, our application supports two types of actions during the validation: Warning and Error. Axy Validator gives your business more flexibility to capture the right information in the right process moment.

Warning Action: Allows you to configure a specific field to set a warning message when the checked data is not correct. But this action allows the user to save the record.

Error Action: Prevents the user to save the record when informed data is not matching the expected format. Assures the business process only goes on if every data is correct.
Axy Validator – Wizard Setup step by step
Validation Types
Our App provides three different validation types, depending on your business needs. Sometimes, the need to be very agile on data input only requires a format validation. There are other business situations where you need a more precise validation, so you need a checksum validation. Finally, you may need to assure you are using a valid and operative code.
Format validations
Prebuilt rules help you to be sure that the length and syntax of code are correct. In the US Social Security Number the rule validates that the input has a length of 9 digits: the first group of 3 digits, the second group of 2 digits, and the third group of 4 digits. And does not begin with '666′.

Checksum validations
This type of rule not only validates length and syntax but avoids any typing error. This data quality check is performed using the checksum algorithm that the managing organization or the ISO standard body has defined for that code.

Operating validations
Assures that the data you are using defines a valid and operative code so will always work for your business process. As an example, if you need to be sure that and European VAT number belongs to the company you are making business with, you should use this type of rule. The way it works is sending a query to the remote service of the official organization that manages and/or issues that code.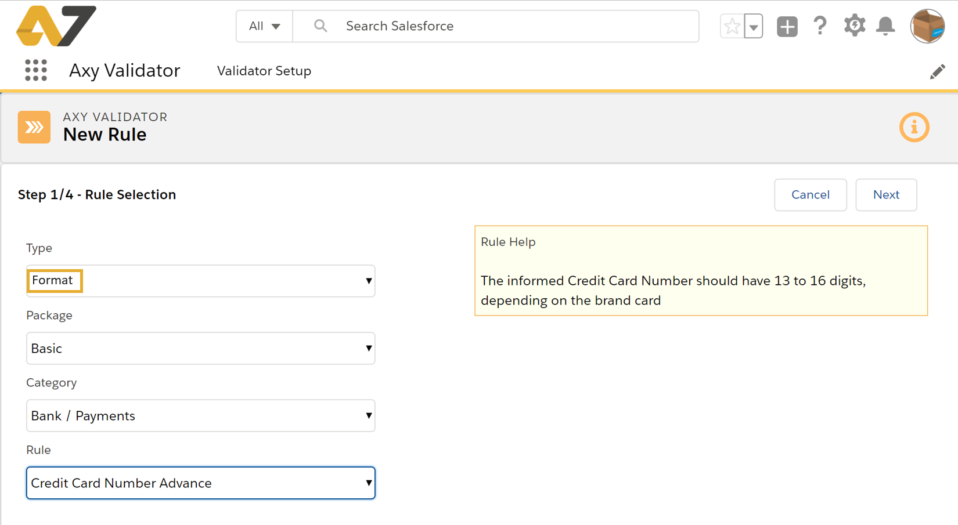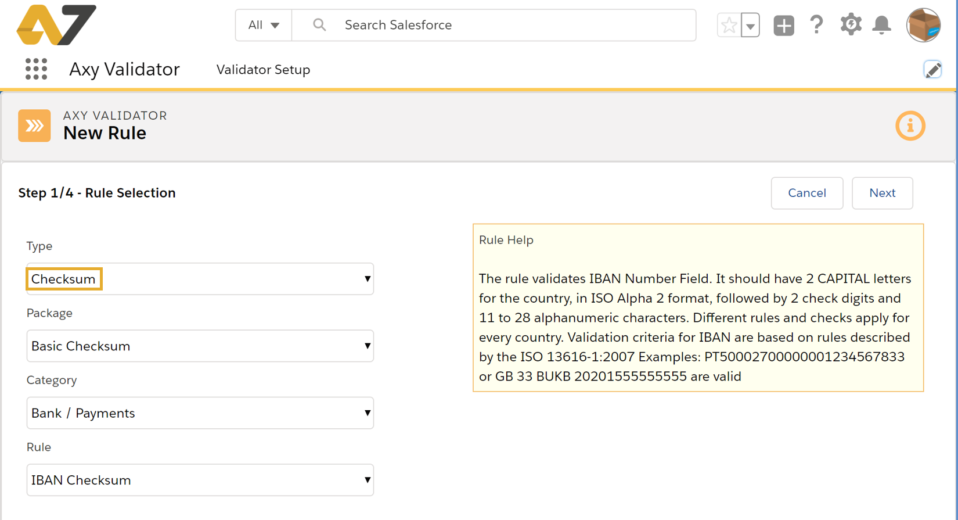 Validation rules
Name
Summary
Category
Type
Credit Card Validation
Validates correct format and number of digits for the following Credit Cards: VISA, Mastercard, American Express, Diners, Discover or JCB.
Bank/Payments
Format Validation
Credit Card Advance
Validates correct format and number of digits for the following Credit Cards: VISA, Mastercard, American Express, Diners, Discover or JCB.
This rule checks as well the valid prefixes range for any of the brands.
Bank/Payments
Format Validation
IBAN Multicountry
Local validation for International Account Bank Number (IBAN) . This rule validates IBAN for the 75 countries that have adopted IBAN numbering system, according to ISO 13616 standard
Bank/Payments
Format Validation
VAT European Union - OneField
Checks if the number by country is a valid VAT Number format for the 28 European Union countries according to VIES definition
Taxes/Legal
Format Validation
VAT Europe - OneField
Checks if the number by country is a valid VAT Number format for the 28 European Union countries and other 15 NON-European Union countries that have published their respective VAT Number formats. Includes the validation of Russian VAT number for convenience. Download Rules Description Document for a complete list of countries
Taxes/Legal
Format Validation
VAT European Union - MultiField
Checks if the number by country is a valid VAT Number format for the 28 European Union countries according to VIES definition. Country code is on a separate field.
Taxes/Legal
Format Validation
US Social Security Number - SSN
Checks if the number is a valid Social Security Number (SSN) according to Social Security Administration
Taxes/Legal
Format Validation
US TIN - EIN
Local validation for US Employer tax identification number: Employer Identification Number (EIN). Format Validation according to Internal Revenue Service
Taxes/Legal
Format Validation
US Individual TIN - ITIN
Local validation for US Individual tax identification number: Individual Taxpayer Identification Number (ITIN). Format Validation according to Internal Revenue Service
Taxes/Legal
Format Validation
Australia TIN - ABN
Local validation for Australian tax identification number: Australian Business Number (ABN). Format Validation according to Australian Business Register
Taxes/Legal
Format Validation
Spanish - CIF
Local validation for Spanish tax identification number: Código Identificación Fiscal (CIF). Format Validation according to Spanish Tax Agency. This rule also applies checksum algorithm to avoid any typing error.
Taxes/Legal
Checksum Validation
Canada TIN - BN
Local validation for Canadian tax identification number: Business Number (BN). Format Validation according to Canada Government
Taxes/Legal
Format Validation
Brazil TIN - CNPJ
Local validation for Brazilian tax identification number: Cadastro Nacional da Pessoa Jurídica (CNPJ). Format Validation according to Secretariat of the Federal Revenue of Brazil
Taxes/Legal
Format Validation
IBAN Checksum
This rule validates the International Bank Account Number (IBAN) for the 75 countries that have adopted IBAN numbering system, according to ISO 13616 standard.. It also validates other 27 countries in the process of implementing it. This rule applies the maximum level of validation using the checksum algorithm to avoid any typing error.
Bank/Payment
Checksum Validation
PPS Number
The object of this rule is the validation of the Personal Public Service Number (PPS) . This rule also applies checksum algorithm to avoid any typing error.
Legal/Tax
Checksum Validation
BIC Code
The object of this rule is the validation of the Business Identifier Code (BIC) , the unique identifier defined by ISO 9362 for businesses around the globe.
Bank/Payment
Format Validation
Phone UK
This rule valdates the Phone Numbers in the UK. Telephone numbers in the United Kingdom are administered by the UK government's Office of Communications (Ofcom).
Contact
Format Validation
Phone US
The object of this rule is the validation of the Phone Numbers in the US and other 19 countries following the The North American Numbering Plan (NANP)
Contact
Format Validation
US ZIP Code
This rule validates the Zone Improvement Plan (ZIP) code. The ZIP Codes are defined by the United States Postal Service (USPS), since 1963.
Contact
Format Validation
UK Postcode
The object of this rule is the validation of the UK Postal Codes (postcode). They are alphanumeric and have been devised by the General Post Office (Royal Mail).
Contact
Format Validation
Eircode
The object of this rule is the validation of the Irish Postal Code (Eircode), issued for any address in Ireland by the Department of Communications, Climate Action and Environment.
Contact
Format Validation
UK National Insurance Number - NINO
The object of this rule is the validation of the National Insurance Number (NINo) in the UK.
The NINo is an administrative number primarily for the use of HM Revenue & Customs and the Department of Work and Pensions.
Taxes/Legal
Format Validation
UK Company Registration Number - CRN
This rule validates the Company Registration Number (CRN) in the UK. A company registration number is a unique number issued by Companies House when a limited company or Limited Liability Partnership (LLP) is incorporated. It is usually abbreviated as 'CRN' and is sometimes referred to as a Companies House Number.
Taxes/Legal
Format Validation