Axy OKR Release Notes
Axy OKR 1.19 – Fall 2020
Release Date
20th of August
Features
My Focus:
The new "My Focus" view summarizes the most important information for the user to keep the focus on what matters, giving context 360 of the company strategy, quarter tactic, and planned activities for the week.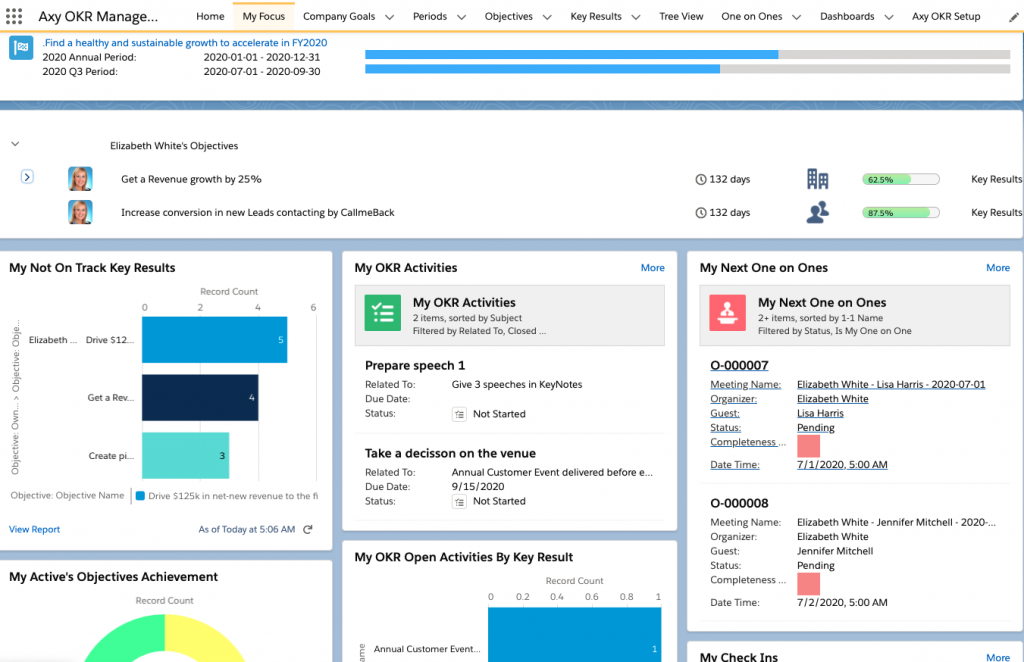 Includes:
Strategic view: Company Goal message and active periods progress.
Tactic View: My Active OKRs view.
Activity & Focus:
– New Reports section for behind Key Results and OKRs Achievement status.
– My Open Activities: List of pending tasks.
– Report of pending tasks by KR.
Engagement:
– My Next One on Ones: list of the next one on ones for the user.
– Fast listing of the last two Check-Ins with planned date, status, completion date and pulse result.
Enhancements
Talking Points
– UX: create a Talking point on entering keeping focus on the input.
– UX: layout improvements.
TreeView Hierarchy
Many performance-related actions such as this tree are being rendered on-demand now. The key results data is loaded on click for each OKR.
Setup
– New Icons to visually display at a glance when and how the automation jobs are scheduled and running. Enhancements reminder process and Key Result automation process have now an icon that shows the status and time for the next execution.
– Pulse activation or deactivation for the Check-in wizard.
Key Result List in TreeView
– Layout improvements
– Inline edition of the Key Result's result for non-automatic or ToDo types.
The automatic Key Result process supports the new aggregation type field "Count unique values".
Check-in wizard / UX: It is saving now the wizard progress in order to keep the status if the user navigates to an objective detail page.
Check-in: once the Check-in is completed, a notification and an email are sent to the user's manager containing the Pulse information and a link to the engagement record details.
Bug-Fixing
Engagement setup: delete pending of completion engagement records when deactivated. On date change, recreate pending engagements and re-schedule the job.
Checkin wizard: Pulse is not being shown on completed engagement records.
When creating a new objective from a KR a wrong date was set. Now the action uses the period end date or parent key result due date, depending on the earliest.
Key Result automation process time-out: We have changed the collection system to work for each report from 10s to 2 minutes as time-out for the process.
TreeView List: Error correction on tree filters cleaning.
Upgrade Instructions
If you want to activate the new notification for the employee-manager:




Go to Setup -> "Check-in & Pulse" section and check "Send notification to Manager on Complete."



ONLY PRERELEASE ORGS:
One on ones "My Next One on Ones" list view changing:
– Erase My One on One's filter.
– Add "Is My One on One = true filter.
Axy OKR 1.15 – Summer 20.2
Release Date
20th of July
Enhancements
One on One
Guest & Organizer OKRs Tree in One on One's: Now in the detail of a 1 on 1's the Tree View filtered by the objectives owned by the guest and organizer is displayed by default.
Quick Talking point component: With this feature, you can manage quickly all the topics of a 1 on 1.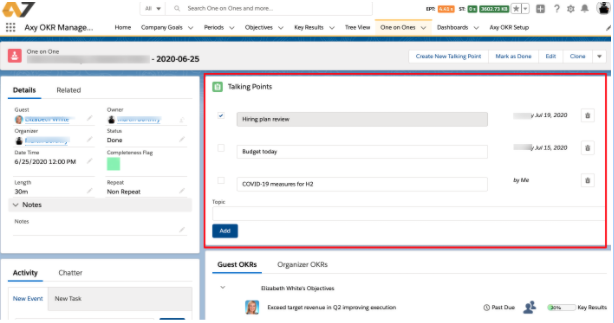 Mark as Done 1on1 Quick action: In the detail of the 1 on 1 now there is a button to change the status to "completed" with just one click, besides adding elements "on the fly".
Check-in & Pulse Wizard
Close and redirect on send: After the completion of the Check-in & Pulse, the wizard automatically redirects the user to the objectives tab.
Elements and navigation: The size and position of the input element has been modified in order to fill the screen and also a progress bar for KR'S has been included. Additionally, a counter is now visible to check the KR due date.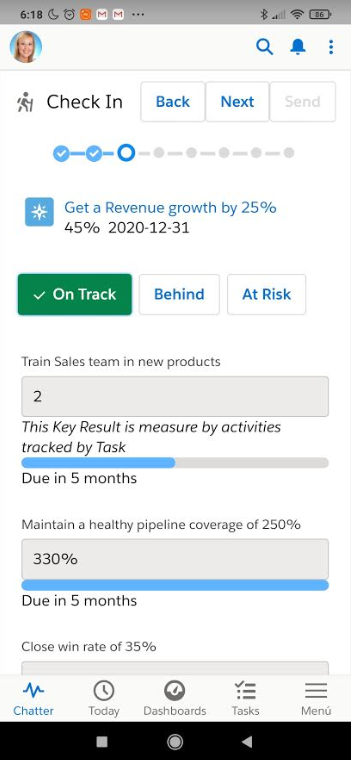 Objectives and Key Results
Changing status
1. A KR, when created, is set to active if the Objective is active. Also passes from draft to active when a result changes from "Null" to "Other status" and the dates are correct.
2. If the objective status changes to "Active" all the pending or canceled KR'S do the same action.
3. If the objective status changes to "Completed" all the non canceled KR'S do the same action.
4. If the objective status changes to " Cancelled" all the incomplete KR'S do the same.
Clean history option: In the setup page there is an option for cleaning the history of the Objective Progress (AKA: Evolution)
Validate Key Results hierarchy: The user can't link an objective outside its own KR'S.
Due date as a new field in Key Result conversion to the objective: When a KR is converted to an objective the dates are updated.
Force KR Weight in objective progress. Top 100%: If the KR'S progress is over 100%, the difference is combined with the weight of the objective.
TreeView:
1. Now it is possible to select the default view (Hierarchy or List) on the Setup page.
2. When activating the Big Org Engine, the default Tree View switches to List.
Bug-Fixing
During Check-in activation, the records were not created to do it in the first execution.
Review and adapt our LWC to this Salesforce Critical Update: https://releasenotes.docs.salesforce.com/en-us/winter20/release-notes/rn_lc_restrict_apex_authenticated_users.htm
Upgrade Instructions
Add the predefined value Objective.EndDate = KR.DueDate in the quick action to convert to child objective:
Go to Setup > Object Manager > Key Result

On the Object Menu, click on "Buttons, Links, and Actions" option.

Click on Convert to child Objective.

Go to the "Predefined Field Values" related list and click on the "New" button.

Select "End Date" on the "Field Name".

Put "axy_okr__Key_Result__c.axy_okr__Due_Date__c" on the "Formula Value" input.
Axy OKR 1.12 – Summer 20.1
Release Date
20th of June… more info.
Features
One on One
Description: in order to keep a good communication within your team we add a complete new module to handle One on One's regular meetings.
Organizer / Guest selection

Calendar synchronization and integration with Outlook and Google Calendar. 

Recurrent automation

Talking points managements

Invite and Remainder notification

Current OKR context for the meeting

Reports and Dashboard for analytics about Management/Individual interactions.
Check – in & Pulse
Description: For increasing the employee engagement and adoption of the OKR practice we have created a new module for check in push notification and quick OKR review wizard. In addition to that we track the pulse of the employee satisfaction. 
OKR quick update Wizard (designed for Salesforce Mobile)

Achievement Status 

Key Results 

Pulse Tracker

Push mobile notifications and email notification

Employee engagement tracker: Planned/Opened/Completed Weekly CheckIn

Reports & Dashboard for analytics about Employee Satisfaction Pulse and general engagement 
Enhancements 
Automation Logs Cleaning

: In order to keep a small storage consumption the Axy OKR Logs older than one week are now automatically deleted. In addition to that a button to force the logs cleaning was added to the setup page. 

Custom Public Group

: Now we support a custom public group to handle the visibility public of the users that will participate in the OKR practice. A new section:

Org Hierarchy

in the setup page was created to easily pick any public group that you have defined in your Salesforce Organization.
Bug-Fixing
Open Key Results and Convert to Child Objective was not working for "list view".
Clean Preselected aggregated field in Report Binding was not working.
Objective Evolution stat grouped by day improvement.
Catch error on Org without AllInternalUsers Public group and use custom group
When a Key Result bound to a report for automatic tracking changes to TODO Type, the bound report is cleaned.
Automatic Achievement on Completed Objective calculation was wrong for some cases.
Upgrade Instructions
After installing or upgrading you must enabled the Notifications settings in order to activate the push notifications for mobile devices. Notice that you must login to Salesforce Mobile first to see enabled the options: Salesforce for Android and Salesforce for iOS

After that you have to go to Axy OKR Setup page, set the day of the week you want to push notifications for regular check ins and Save the options.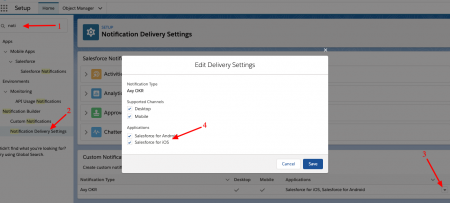 Axy OKR 1.10 – Summer 20
Release Date
15th of May… more info.
Features
Advance Filter Options: Now we Tree View component support several options to filter OKRs

Company Goal Filter
Achievement Status Filter
My Objectives / My Hierarchy Objectives Filter
Levels to display
Filter by Objective name
Filter by Owner

Tree List View and Tree Hierarchy View: In order to have a better visualisation during browsing a company goal we have improved the hierarchy view and added a faster list view to explore the Objectives and the main information.
Bug-Fixing
Hierarchy Render performance improvement for high volume
Better error handling messages for not licenses uses.
Task advance calculation distribution
Key Result view sorted by starting date
Upgrade Instructions
This release doesn't require any manual action for upgrading. 
Axy OKR 1.7 – Spring 20
Features
Inverse Progress: Now we support negative progress Key Result. more info…
Big Org Engine: Now our engine for automatic key result progress tracking support organisations with more than 5000 users, having more than 20 automatic key result actives. Up to 100k active key results. That means a loot of calculations 🤓
Bug-Fixing
Convert to Key Result from Detail view
Show permissions or unexpected error on Company wizard
Company Wizard support decimals
Key Result quick creation error on +80 characters name
Weight redistribution on Key Result cancellation
Dashboard Achievement forecast calculation
Error on TODO Key Result type amount calculation by reparenting
Upgrade Instructions
Inverse Progress in Key Results:

Setup > Object Manager > Key Result > Page Layout > Key Result Layout

Search "Inverse Progress" field and drag & drop it to the "Information" section.
Fix dashboard of Achievement forecast in average

Go to Dashboards > "Axy OKRs Dashboards" folder > "Execution Dashboard"

Click on the "Edit" button.

Find "Objectives Achievement Forecast" chart and click on the edit icon

Go to "Groups" section and delete "Objective: Objective Name" group.

Click on the "Update" button.

Click on the "Save" button.