Axy OKR Release Notes
Axy OKR 1.12 – Summer 20.1
Release Date
20th of June… more info.
Features
One on One
Description: in order to keep a good communication within your team we add a complete new module to handle One on One's regular meetings.
Organizer / Guest selection

Calendar synchronization and integration with Outlook and Google Calendar. 

Recurrent automation

Talking points managements

Invite and Remainder notification

Current OKR context for the meeting

Reports and Dashboard for analytics about Management/Individual interactions.
Check – in & Pulse
Description: For increasing the employee engagement and adoption of the OKR practice we have created a new module for check in push notification and quick OKR review wizard. In addition to that we track the pulse of the employee satisfaction. 
OKR quick update Wizard (designed for Salesforce Mobile)

Achievement Status 

Key Results 

Pulse Tracker

Push mobile notifications and email notification

Employee engagement tracker: Planned/Opened/Completed Weekly CheckIn

Reports & Dashboard for analytics about Employee Satisfaction Pulse and general engagement 
Enhancements 
Automation Logs Cleaning

: In order to keep a small storage consumption the Axy OKR Logs older than one week are now automatically deleted. In addition to that a button to force the logs cleaning was added to the setup page. 

Custom Public Group

: Now we support a custom public group to handle the visibility public of the users that will participate in the OKR practice. A new section:

Org Hierarchy

in the setup page was created to easily pick any public group that you have defined in your Salesforce Organization.
Bug-Fixing
Open Key Results and Convert to Child Objective was not working for "list view".
Clean Preselected aggregated field in Report Binding was not working.
Objective Evolution stat grouped by day improvement.
Catch error on Org without AllInternalUsers Public group and use custom group
When a Key Result bound to a report for automatic tracking changes to TODO Type, the bound report is cleaned.
Automatic Achievement on Completed Objective calculation was wrong for some cases.
Upgrade Instructions
After installing or upgrading you must enabled the Notifications settings in order to activate the push notifications for mobile devices. Notice that you must login to Salesforce Mobile first to see enabled the options: Salesforce for Android and Salesforce for iOS

After that you have to go to Axy OKR Setup page, set the day of the week you want to push notifications for regular check ins and Save the options.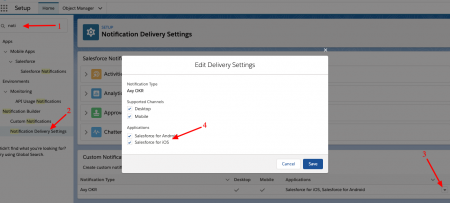 Axy OKR 1.10 – Summer 20
Release Date
15th of May… more info.
Features
Advance Filter Options: Now we Tree View component support several options to filter OKRs

Company Goal Filter
Achievement Status Filter
My Objectives / My Hierarchy Objectives Filter
Levels to display
Filter by Objective name
Filter by Owner

Tree List View and Tree Hierarchy View: In order to have a better visualisation during browsing a company goal we have improved the hierarchy view and added a faster list view to explore the Objectives and the main information.
Bug-Fixing
Hierarchy Render performance improvement for high volume
Better error handling messages for not licenses uses.
Task advance calculation distribution
Key Result view sorted by starting date
Upgrade Instructions
This release doesn't require any manual action for upgrading. 
Axy OKR 1.7 – Spring 20
Features
Inverse Progress: Now we support negative progress Key Result. more info…
Big Org Engine: Now our engine for automatic key result progress tracking support organisations with more than 5000 users, having more than 20 automatic key result actives. Up to 100k active key results. That means a loot of calculations 🤓
Bug-Fixing
Convert to Key Result from Detail view
Show permissions or unexpected error on Company wizard
Company Wizard support decimals
Key Result quick creation error on +80 characters name
Weight redistribution on Key Result cancellation
Dashboard Achievement forecast calculation
Error on TODO Key Result type amount calculation by reparenting
Upgrade Instructions
Inverse Progress in Key Results:

Setup > Object Manager > Key Result > Page Layout > Key Result Layout

Search "Inverse Progress" field and drag & drop it to the "Information" section.
Fix dashboard of Achievement forecast in average

Go to Dashboards > "Axy OKRs Dashboards" folder > "Execution Dashboard"

Click on the "Edit" button.

Find "Objectives Achievement Forecast" chart and click on the edit icon

Go to "Groups" section and delete "Objective: Objective Name" group.

Click on the "Update" button.

Click on the "Save" button.