Axy OKR Employee Performance Management: the perfect ally for your new Salesforce Employee Experience
Salesforce Employee Experience: The importance of redefining the employees' role
As we all know, 2020 was one of the strangest years in recent history. From the loss of millions of lives as a result of the pandemic to all the collapsed economies across the world affecting multiple different industries, it's safe to say that it wasn't just another normal year.
The new normal forced companies and individuals to adapt and readjust their behavior in order to reduce the impact of the pandemic. After several months of changes, it also created the need to take care of one of the most important resources in every organization: the employees.
The new employee reality
In general, nobody expected to work from home for as long as we have so without taking measures to help individuals, the effect of the pandemic would have been even more significant. The need to take care of our employees, not only physically but also mentally, demanded new ideas, new tools, and a lot of work.

Most employees typically have a daily routine: going from home to work, regular meetings with coworkers and customers, taking breaks, and simple things like listening to the radio in the car or going for happy hour at the end of the workday were very important rituals. Well, for most of them in 2020, their routine got flipped upside down and they were left trying to figure out what to do.
Facts & numbers
A new report from Microsoft Surface and YouGov titled "Work Smarter to live Better" has found that almost nine out of 10 (87%) employees have reported that their businesses have adapted to hybrid working. This new way of working has given many workers the opportunity to live life in a completely different way. 
Fifty-five percent now use their lunch break to focus on their personal life and 56% reported an increase in their levels of happiness working from home. However, many employees have also said that they are being stretched further in the work they need to deliver. 
Nearly one in three (30%) reported an increase in their hours while working from home, and more than half (53%) feel they have to be available at all times. As a result of these new pressures, 36% of those surveyed said mental health and resilience resources were the most popular options when it came to choosing training to build remote working skills. 
(Source: news.microsoft.com)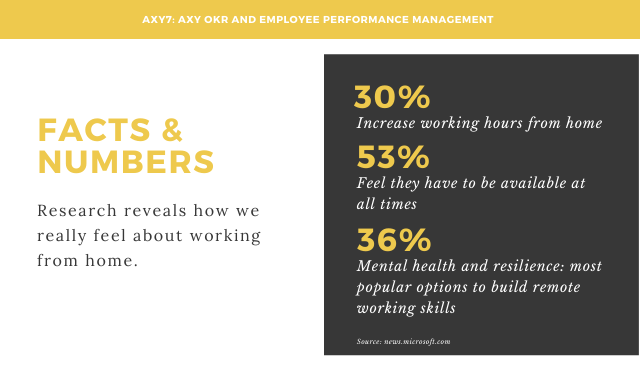 Salesforce: a new employee experience
Because of the pandemic, Salesforce had to reimagine the employee experience with a new Data Model to build Employee Apps Faster. This model has a new set of standard objects and fields to accelerate employee application development while also capturing and centralizing important employee information to help businesses. 

The new objects include:
Employee

: Represents an employee within a company or organization

Internal Organization Unit: Represents an organization that an employee belongs to
Crisis: Represents a major crisis event that affects an Employee in an Internal Organization Unit
Employee Crisis Assessment: Represents a crisis assessment of an Employee
When it comes to improving the employee experience with apps, the possibilities are endless with these new objects. They contribute towards new onboarding processes, faster support, better engagement, online learning, health protocols, and so on!

Get more info about Salesforce Employee Experience.
Axy OKR Employee Performance Management: the perfect ally for your new Employee Experience: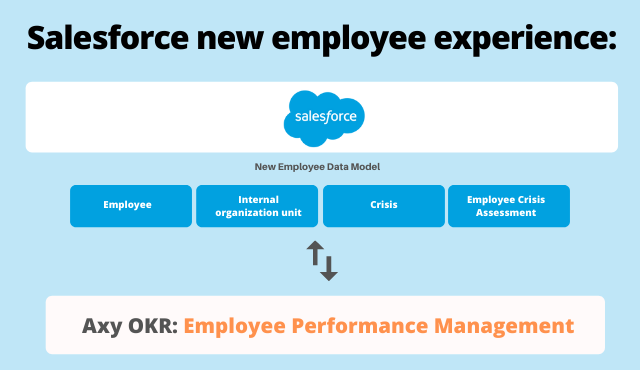 Axy OKR is a powerful OKR Management app built for your Salesforce instance. It has a multitude of features to assist in successfully implementing the Objectives and Key Results methodology within your organization.
In addition, Axy OKR comes with an Employee Performance Management module designed to facilitate 360º employee performance reviews.

Some of its features include:
Sharing results & follow ups
Sharing results

My profile career aspirations

My profile career development component
Timeline management for reviews

Department and roles assignment

Notification management
Question templates

Questions per role
Notifications

Feedback & Questionnaire Wizard

Analytics & Dashboard
And with the release of the new Salesforce Employee Data Model, your company will be able to capture its employees' essential information and make use of it in the best way possible with Axy Employee Management. If you have already been using our app in your Salesforce org, you will also be able to connect Axy Employee Management to the new Salesforce Objects in order to access your employees' information. This helps give your managers the proper tools to manage their teams such as one-on-ones and the My Focus module.

Axy Employee Management can empower your Salesforce Employee Management experience and with consistent updates and releases, as well as a great 24/7 support team that is always ready to assist in your implementation, it's the best solution on the Appexchange for performing 360 reviews within your organization! 
Take it for a spin on the Test Drive or get in touch with our team for a custom demo.