Axy OKR Launch
After many months of hard work, we are proud to announce the official launch of Axy OKR application in the Salesforce Appexchange. 
Why OKR? 
Managing a company is hard. In startups like Axy7 is even harder. Trying to handle several fronts like multi-products, markets, financial challenges, following the market rhythm of the Salesforce Community is usually a real mess for the team in goal definition and commitment. 
That is the main reason why we decided last year to implement the best practice of Objectives Management known so far: OKR. 
The idea behind OKR is simple and powerful at the same time that is intuitive for Teams coordination. 
Just by defining the main company goal for the year, defining WHAT needs to be accomplished as company Objectives, and the HOW are that objectives going to be achieved as Key Results. You set and share in a transparent way the north for your company. Next: let the rest of the people align, focus and commit to the company goal using the same method. 
Notice that is not the best management methodology because we say so but Companies such as Google, Adobe, Facebook, LinkedIn, Uber, Twitter and even Salesforce, are using it.
Having a deep reading of Measure What Matters by John Doerr where he illustrates the basics of Objectives and Key Results Andy Grove methodology with excellent examples of real-world cases was the inspiring kick-off of a new era for Axy7 Team. 
Why OKR for Salesforce? 
Soon after that, we consume all the material that we were able to find about OKR's Best Practices and the team jump into this practice. 
You can imagine that being a company of Salesforce App Development the first day of OKR Planning for the quarter we find ourself defining our own customization of Salesforce to have a proper OKR platform in our Salesforce Business Org. 
Why we did that if there are many good tools implementing OKRs like 7Geese, Weekdone, BetterWorks. Mainly because they are a non-native application for Salesforce and if you use Salesforce you know the power that you get by applying customizations to it.   
If you use salesforce give it a try. It is free for the first 30 days.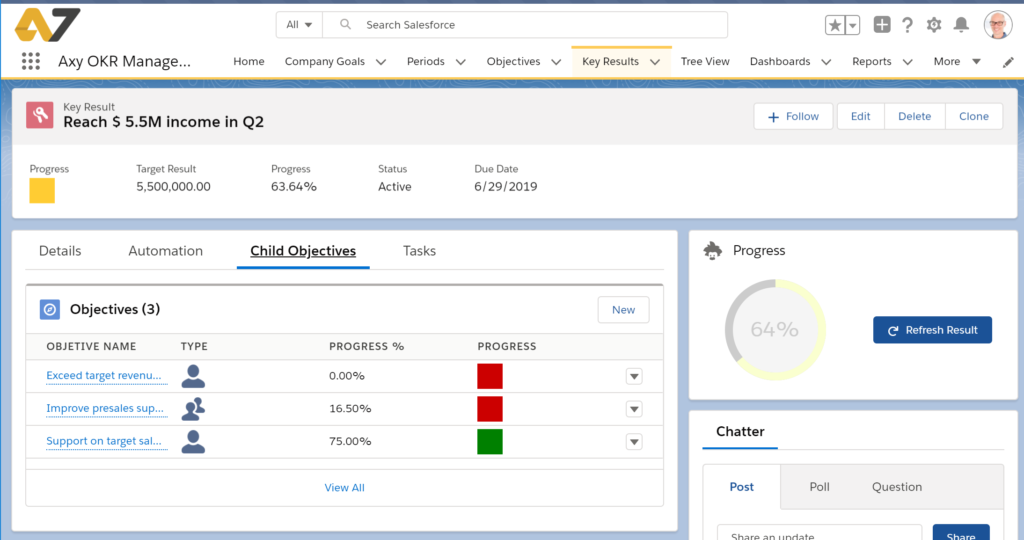 So, What are the main features for version 1.0
Our initial version has the purpose of to push the main OKR superpowers, as Doerr said, and accelerate the OKR adoption process for your company. 
Focus
Alignment 
Tracking 
Stretching
This initial version contains: 
A Wizard for Company Strategy definition and C-Level OKRs
Objectives and Key Results definition for Company, Team or Individuals
Automatically Tracking of Key Results by using Standard Salesforce Reports
Periods planning for Cycle management
Collaborations through Chatter
Pushing best practices by formulas and notifications of thresholds achievement
Objective Achievement Forecast
Wrapup for Self Scoring and Management Feedback
Planning, Execution and Wrapup Dashboards
Tree View of Company Alignment
Private mode 
You can find detailed information about the features in the main App Page or the User Guide pdf. But even better in the appexchange trail. 
Future
For the near future we are planning to release a lot of new functionality asked for our beta testers customers and our own team: 
CFR complete support

1:1 planning and tracking

Periods Gantt view

Automatic PDF Report
We hope you enjoy this app as much as we do. Or give OKR a change for your company. You will not regret. 
Cheers  🙂
Axy7 Team.