Axy OKR Customer Success Stories: Visma 
"Our teamwork is based on ORKs, and we achieved 62% of EBITDA"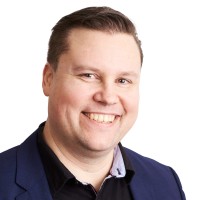 Janne Katajamäki – Director Customer Experience & ICT

 -About Visma-
Visma is a leading provider of business software and services in the Nordic region. They are one of the top 3 companies in Finland and operate across Europe, Latin America, and Asia with over 12,000 employees serving more than 1 million customers.
Here are some questions about the company's vision and the okrs implementation in Salesforce with our tool, Axy OKR.
Why did Visma decide to implement the OKR methodology?
We did extensive research on the OKR methodology and its success worldwide. We recognized that OKRs are an effective way to set goals and track progress. We knew that companies like Google and Intel have used OKRs to drive performance and achieve impressive results. Given our commitment to driving innovation and growth, we saw the implementation of OKRs as a critical step in achieving our mission.
How did Visma choose Axy OKR for their OKR program?
We recognized the importance of dedication to the OKR methodology and the support required for successful implementation. As we were already using Salesforce, we wanted to find a tool that could be fully integrated with it and provide us with the features we needed to manage our OKRs. That's when we found Axy OKR. We reached out for more information and the team provided us with demos and meetings to discuss how Axy OKR could be tailored to our specific needs.
What were your expectations about the implementation of the methodology across the company?
As a company, we had high expectations for the OKR implementation across our entire team. With over 150 users, it was crucial to ensure that everyone was aligned and coordinated using OKRs. To ensure success, we put in a significant effort in our OKR planning process during November and December of each year. We would then share our plans with the entire team and provide weekly follow-ups and reviews. It required a lot of hard work, but we were committed to implementing the methodology successfully and seeing the potential benefits it could bring to our company's performance.
How has the implementation of OKRs impacted the company's performance?
We are very happy with the results we have achieved since implementing the OKR methodology. Our team has fully embraced the methodology, in order to achieve our goals. This commitment has translated into real results, with our EBITDA increasing to 62% in 2022.
Can you share your experience working with the Axy OKR team?
They played an essential role throughout the process of implementing OKRs. They were always available to answer our questions and provide guidance on how to use the features of Axy OKR We would rate our experience a 9 out of 10.