Enhance your One on Ones with OKRs in Salesforce
Most managers are challenged to create meaningful and effective one on ones meetings with their direct reports. One benefit of using OKRs is giving all meetings, even one on ones, a defined structure, a common purpose, and what it is important to do before the next meeting. If you want to improve your one on ones then you have come to the right place.
According to WhatMatters.com there are 3 ways meetings are improved by OKRs.
1- Focus on collective problem solving
Metric-based questions encourage conversations to be centered around the objectives and give the meeting a purpose. With Axy OKR you have access to all the information to answer questions like why the progress made isn't the one committed? You can even link a report from Salesforce to automate progress tracking. These features will help you better direct your questions and conversations.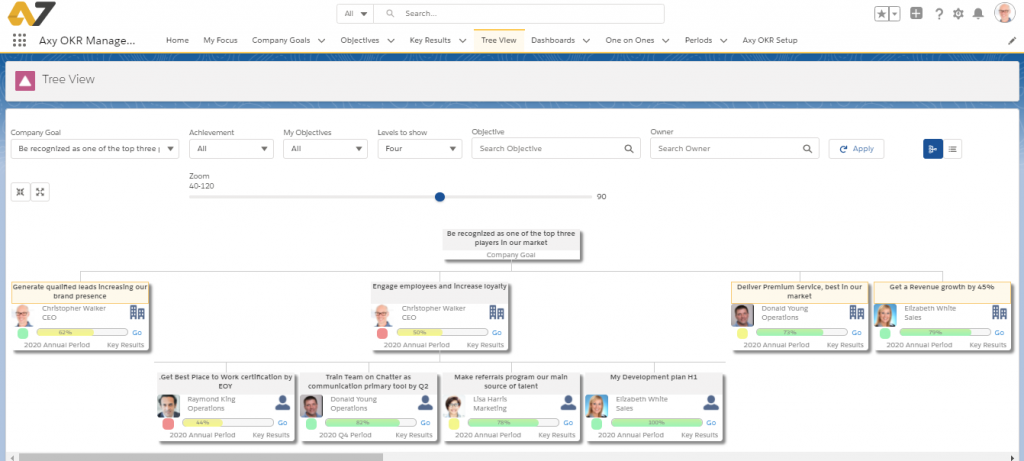 2- Outcome, not activity
OKRs help you center your attention on the progress of each goal instead of the activities performed. This shift from activity to progress enriches conversations. With Axy OKR you can have a clear view of the progress on each key result and objectives and identify where to allocate efforts and resources.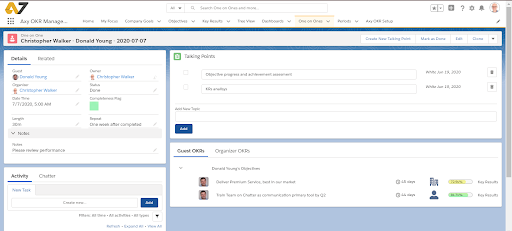 3- More focused meetings mean fewer meetings
This allows teams to focus on getting the work done and spend less time in agendaless meetings. Axy OKR one on one module allows you to have everything prepared beforehand to have effective communication with your employees and help them identify what is important to do and how you can help them.

OKRs can help your organization improve its productivity by making every employee feel supported by its manager through conversations that are focused on progress on objectives based on clear information. 
Be sure to check Axy OKR in Appexchange, the first 30 days are free.