Learn, meet and wrap up easily with Axy OKR in Salesforce
Most of the agile methodologies which are being used in many organizations in the world use cycles. The reason why they are using cycles is basically that they allow teams and individuals to focus. Instead of trying to do everything at once, you know exactly when you're going to do certain tasks and how they're helping you build towards your long-term goals. OKR methodology has cycles as well, which is one of the reasons why it is so effective. 
As cycles end, teams and individuals must reflect upon different subjects to improve their performance and identify lessons learned throughout the period. Cycle closure requires everyone to evaluate what has been achieved, learn from both mistakes and successes to make sure they hit their goals in the last months and plan how the next period will look like.
What is new
Wrap-Up Cycle
OKR methodology has the Wrap-Up Cycle. During this cycle, everyone must close their OKRs. Closing requires defining if an objective was achieved or not, scoring each objective regardless of the achieved or nor status, and getting feedback from his manager to identify the lessons learned of the period and how to apply them to do better the next time.
The purpose of our new release is to help you close the cycle in a very simple yet insightful way to identify improvement opportunities and give meaningful feedback to your employees that will make the next period even better with an improved Wrap-Up Cycle on Axy OKR.
Our new release includes the Notification Manager. You can now choose to activate or deactivate the notifications of Axy OKR. You can find it in the setup tab.
Based on the Notification Manager, our wrap-up cycle now has new notifications. If activated employees will be notified through Salesforce the day that the wrap-up starts and finishes, showing the objectives that are wrap-up pending, the score is missing, or that don't have manager feedback. This will help your managers push their teams to complete the cycle on time, and as an organization to create a culture where OKRs are part of the day to day job of everyone.


With our new release, One on Ones at the Wrap-Up Cycle will have talking points created automatically to ensure that manager feedback is given and the objective can be closed. If there isn't a One on One programmed, Axy OKR will create a new One on One without a date that includes the Talking Points. 15 minutes after any automatic talking point is created Axy OKR will send a notification to the meeting participants to make sure they are aware of this Talking Point. Our purpose is to make the Wrap-Up Cycle a moment of honest conversations between managers and employees, that helps everyone grow professionally while applying a manager calibration OKR best practices.
Check-in improvements
Our wizard now has a close objective option. Your employees are now able to set the achievement status, score and self assess an objective and mark it as closed directly from the check-in wizard. You will also find the details and tasks associated with a TODO key result.  Once an objective is marked as closed, an automatic talking point will be created in the next One on One meeting.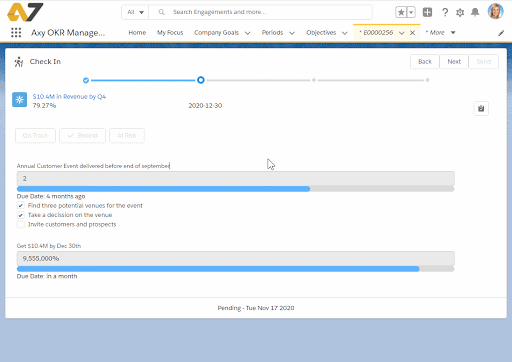 Wrap-up tab
To make sure that you know exactly what to do in the Wrap-Up Cycle, we have included a new wrap up tab in the objective detailed view. There you will find all the fields that are necessary to close the period appropriately.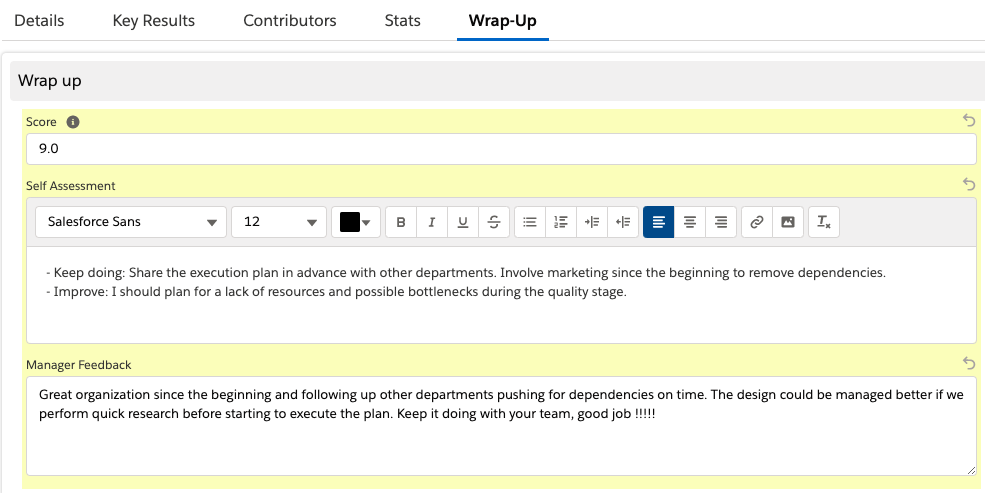 What is coming
We work in agile mode so we are not entirely sure when this version will be released or what will be included in it, but as a best practice, the Axy Dev Team tries to keep a regular cycle of monthly releases. In our roadmap, the next priorities are:
Planning Period Wizard

My Focus enhancements

360 Performance Reviews

OKR Stats & Analytics
For more information please refer to our Release 1.22 at the following link