OKR+A: Focusing on actions to achieve healthy business goals
OKRs (Objectives & Key Results) play a vital role in achieving your goals and are great for aligning your company on what's important, but in reality, actions are the main driver for your success.
What are OKRs?
Andy Grove invented them, John Doerr evangelized them, and Larry Page famously used them at Google with great success. The Objectives and Key Results management style is a relatively simple way for an organization to set goals and achieve results while measuring them on the way via their actions.
OKRs have revolutionized the way an organization communicates internally in a completely transparent and open style. Furthermore, they re-engineered the traditional top-to-bottom approach to management, reversing it in such a way that the goals are set by the leaders, leaving the rest of the organization free to set their own OKRs. Transparency is key, however, as everyone can see each other's OKRs from the lowest level all the way up to the CEO.
Example: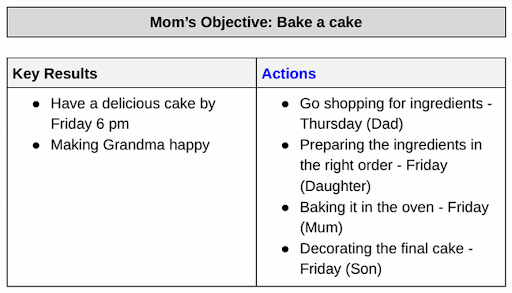 However, setting OKRs is but one step to achieving your goals. Another often overlooked step is taking action. For our partners at OKR Asia, the main focus of OKRs is actually on actions & implementation when setting your company goals, hence the acronym OKRA©.
OKRA, composed of Objectives, Key Results, & Actions, focuses on "getting things done". This is achieved via the initial alignment on Objectives & Key Results, followed by proposing & implementing continuous action from the teams involved to achieve the OKRs. The more actions that we take, the closer we get to achieving our results based on the agile management methodology.
The benefits of Objectives, Key Results, & Actions
Carsten Ley, co-founder of OKR Asia and a leader in implementing new and revolutionary project management techniques in Southeast Asia, focuses on action management within OKRs. OKRA was conceived based on the idea that Objectives & Key Results are planned before the quarter and will be only modified along the way if needed, but actions are the key driver of OKRs during the 3-month achievement timeline, hence OKRA.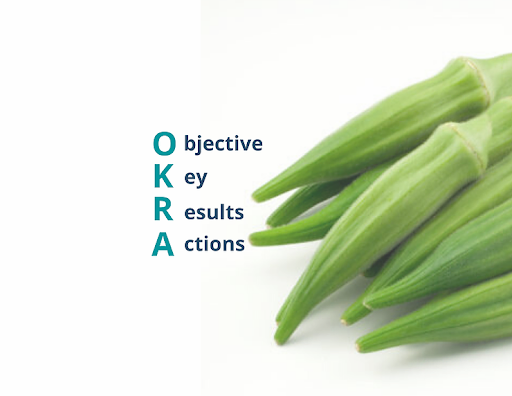 OKR Asia has been implementing this method successfully through their consulting business for companies throughout Asia, Europe, & the USA for over 2 years. With an actionable final component to this goal-driven management technique, it leaves no room for ambiguities.
It is proven that many organizations are using the fundamentals of Objectives and Key Results to plan their quarterly goals together with their teams, but this is where they get stuck because without a clear indication of what teams or individuals are doing to achieve their key results, everything comes to a halt. In other words, as the name suggests, the Action in OKRA is the engine that takes the design and pumps gas into it, driving it forward.
How to take action
One way to ensure that your organization takes action with their OKRs is by using an OKR solution that makes it as easy as possible for your employees to check in and keep their OKRs up to date. If you use Salesforce in your organization, then the best OKR software for you is Axy OKR.
With Axy OKR, taking action on your OKRs is made effortless thanks to a simple and intuitive interface that is easy for any Salesforce user to learn, weekly check-ins and pulse checks that keep your employees focused, one-on-ones that are integrated with your calendar software, automatic key result progress tracking with Salesforce reports, and the My Focus tab which gives an overview of all the most important OKR information for every user.
Check out Axy OKR in the Appexchange and give it a try – the first 30 days are free!