Axy OKR – OKR Mobility Support in Salesforce
How to check anywhere and anytime your goals progress and your team alignment.
Why Mobility support is so important in any OKR Platform
To establish a good OKR based culture in your organization you have to push for that through frequent check in's on your own progress and follow up on your Team progress. 
Being able to access your OKR Tree at any moment will give you the power to perform at the right moment a good follow up to a colleague and have a talk based on data and OKRs. This will help to set the data-driven culture that is so crucial for OKRs. 
Mobility in the OKR Platform means the access to get accurate information and update the key results, progress or just to cheer up for any accomplishment someone does. 
Push notifications
It has a huge value the possibility to receive push notifications when a key result threshold has changed, when a new objective has been created and assigned to you and when you receive some feedback from your colleagues to improve in any Key Results. 
Pushed messages mean that you and your team could be up to date on anything related to the progress of the Objectives and react quickly giving a proper response. In short: Having a better communication is key on OKRs and Push messages improve that. 
Collaboration in Salesforce Chatter 
Salesforce is a quite extended platform that has solutions out of the box for almost every need your company could have. For communication and collaboration, the Salesforce answer is Chatter. 
You probably already know the power of chatter that allows you to share any information always related to the record that you are collaborating with.
In Axy OKR we support this objects where employees share information are: 
Company Goal

Periods

Objectives

Key Results

Individual Tasks
On any of those objects you easily could perform any of the next actions with chatter: 
Follow the activity

Track main fields changes

Comment

Mention any other user to bring his attention

Share a file, link or video

Make a Poll

Track a call/email

Ask a question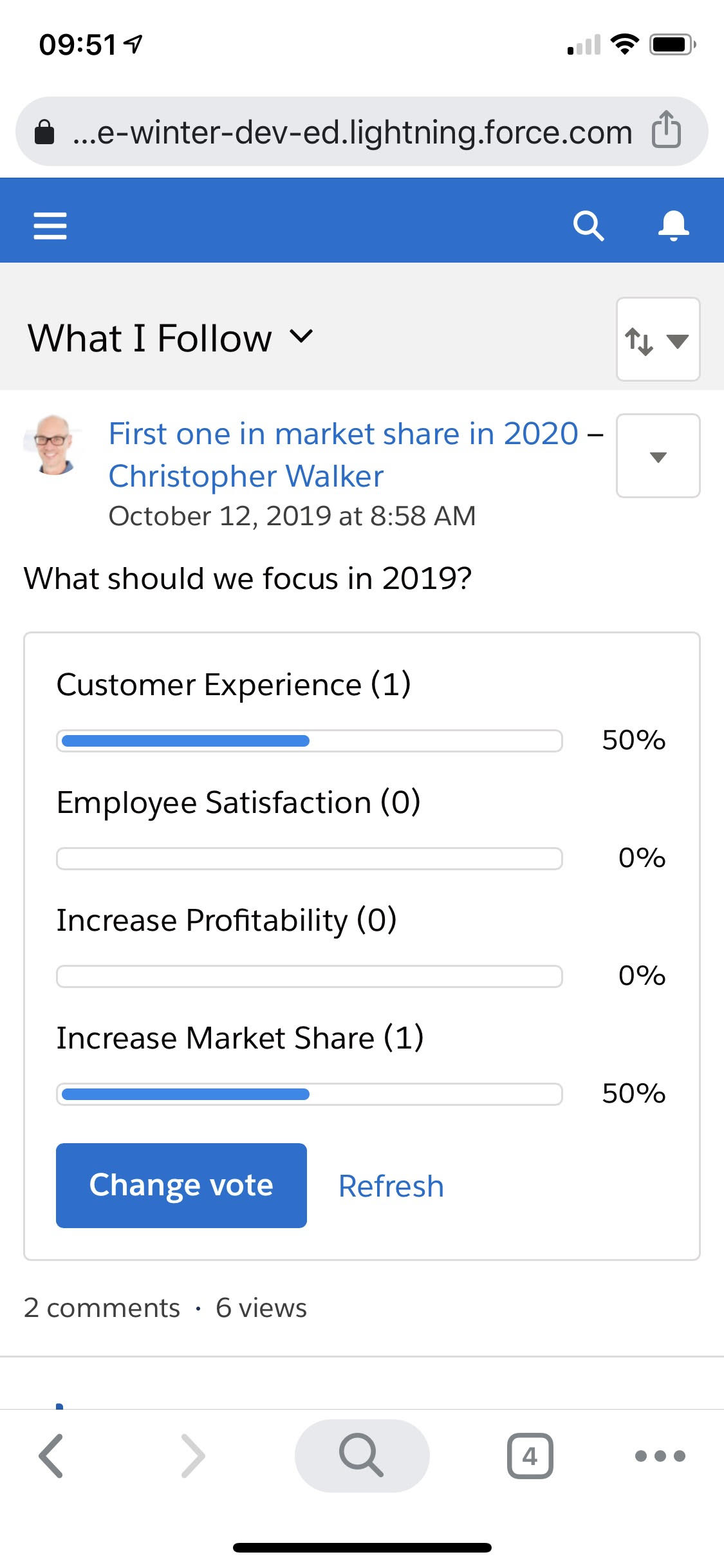 Chatter is by default supported on Salesforce Mobile (aka Salesforce One)
Salesforce Mobile support
Salesforce and therefore Axy OKR has a really good support on mobility for different types of devices such as: 
iPhone

Android

Ipad

Web access from any Mobile phone
The system also works in online/offline mode. Caching last visited records so you could access any information you need even when you don't have access to the internet. 
Realtime Dashboards in mobiles
Maybe one of the most powerful tools that Axy OKR uses from Salesforce is the Dashboards that are updated in realtime. 
Magically Salesforce support Dashboards and reports in Mobile devices.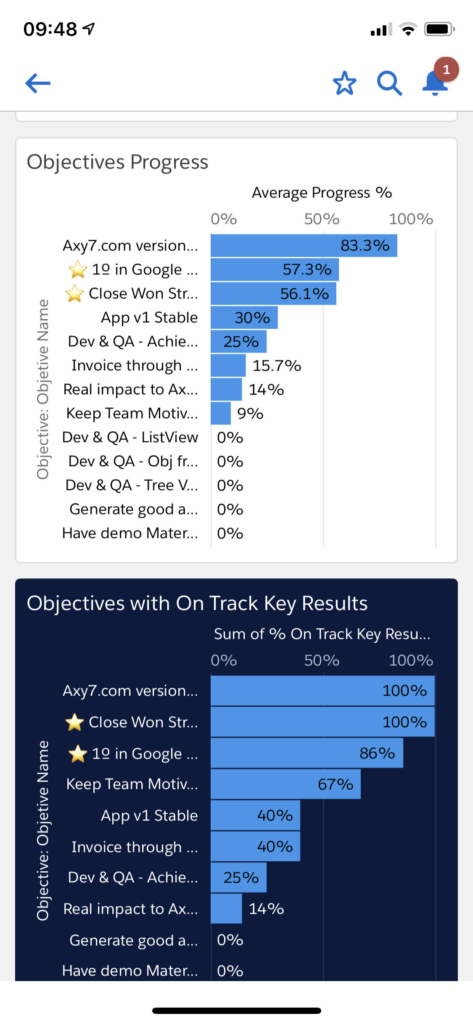 Axy OKR mobility support
Axy OKR works in Salesforce One and mobile browser, supporting almost every functionality that we have in the desktop version. 
The actions you may do are: 
Create, Read or Edit Objectives

Create, Read or Edit Key Results

Create and work with tasks for TODO type's Key Result 

Update Periods Status

Share objectives

Track progress on Key results

Use Chatter on any of them to collaborate

Access to our Dashboard for Planning, Execution or Wrapping up analysis. 
Features that are not supported yet in our mobile version are: 
Tree View

Wizard for Company Goal
Cheers
Axy Team