Salesforce: integration with tools for HR and goal management
Salesforce is a powerful CRM used worldwide. Its success is not only based on its features but also on the ability to adapt its functionality to each customer's needs.
This is one of the pillars of Salesforce: you will find in the Appexchange an extensive list of tools that bring solutions to almost everything. Also, these tools need to pass previously through several tests, and finally, through the final user´s implementations where you could find reviews and information about how they perform.
 An article by the talent management division of Bersin, part of Deloitte Consulting, noted, "Today, more than 70 percent of all employees work in service or knowledge-related jobs. Their performance is driven by their skills, attitude, customer empathy—and by their ability to innovate and drive change by working through teams."
Day by day companies´ dependence on employees' skills is growing, and they need tools like performance management systems to help and evaluate them. With a good performance management tool, it is possible to increase productivity, retain staff, and improve the company's results.
The Basics of Performance Management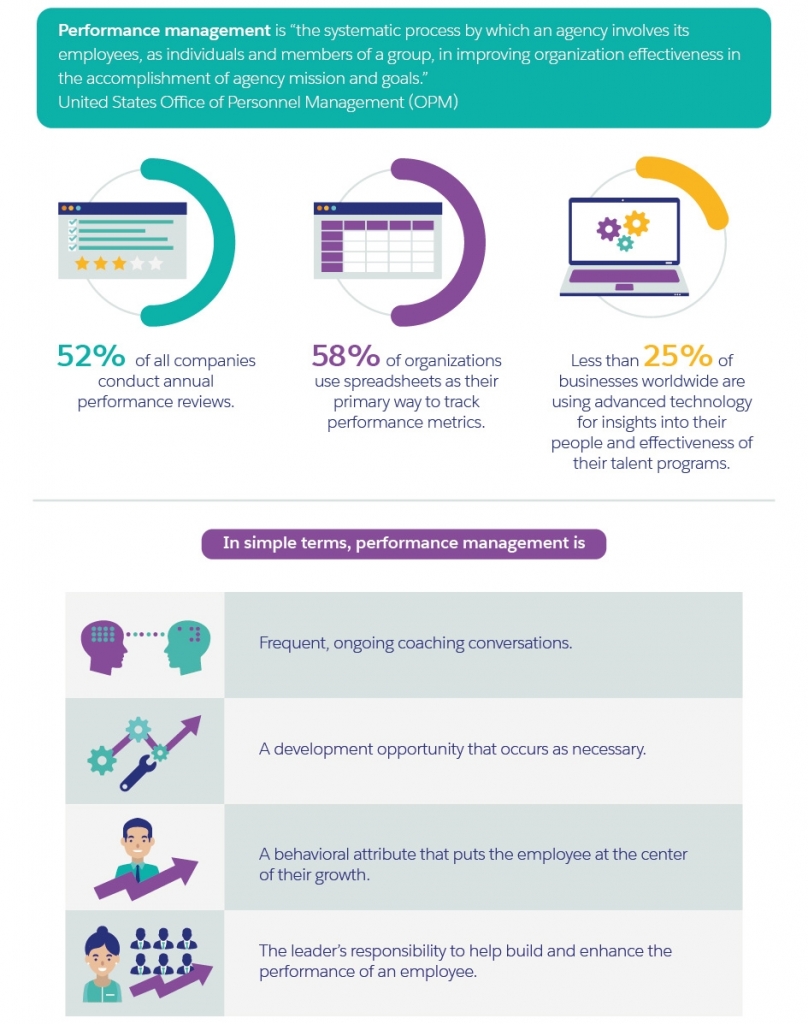 Source: forbes.com
Performance Management seeks a simple premise: to improve the effectiveness of the members of an organization to achieve its goals. This can be accomplished by using tools to set expectations, monitor performance, and provide feedback.
As we said before, the Salesforce ecosystem brings performance management solutions closer to each particular need and responds to a point of view and a context that has changed after the pandemic.

How to Improve Your Company's Performance Management System:

– Define what performance is needed
– Help employees to develop the skills and knowledge to meet performance goals
– Motivate employees to perform as effectively as possible
– Provide useful data
How to Improve Your Company's Performance Management System
Your metrics are chosen, and you have a performance management system and the ideal metrics in place. Now you're ready to complete your company's performance management process makeover.
Some best practices can go a long way:
Get leadership on board.

Clearly define goals for employees.

Invite employees into the process. 

Provide regular feedback. 

Focus on coaching/guiding/mentoring employees. 
Why Axy Employee Performance Management?
Axy OKR comes included with Axy Employee Performance Management, a powerful tool to help you get a better understanding of how well your employees are performing by leveraging your organization's Salesforce implementation and using the best tool available to perform 360-degree employee performance reviews.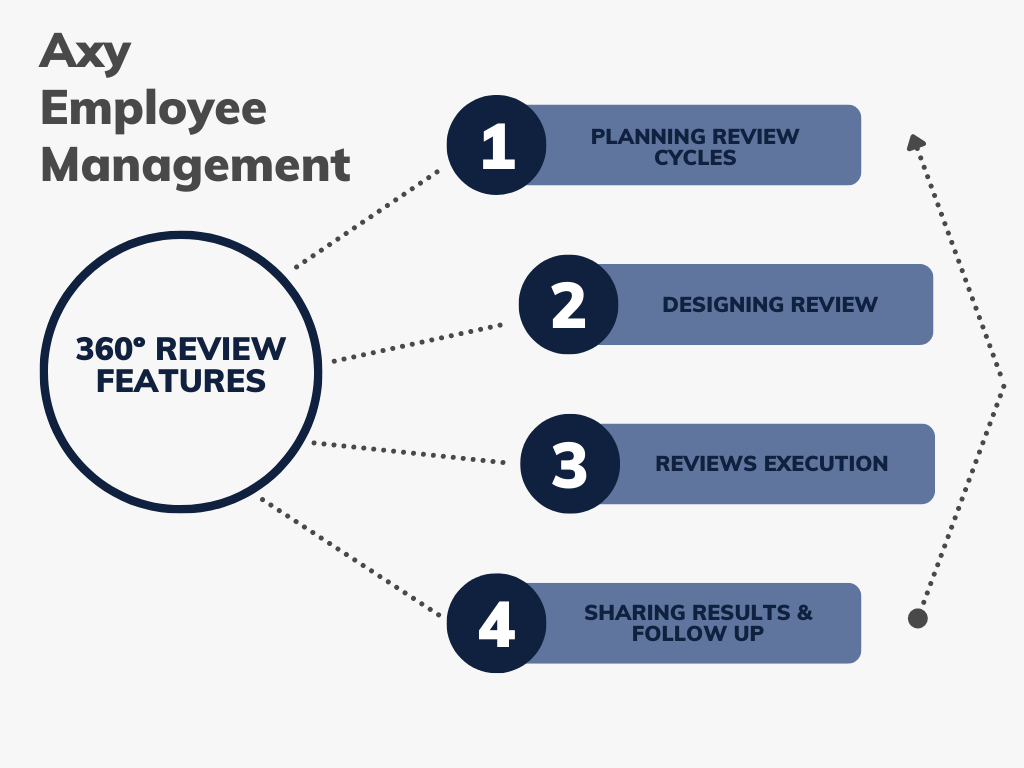 The importance of setting up goals

With Salesforce you can help your teams to be more productive using best practices and tools available for everyone.
OKRs are a powerful methodology that will help you to maximize your results and achieve your objectives, working individually or in teams, but searching for a single and ambitious company goal.
John Doerr identified 5 key benefits to implementing OKRs in an organization:
Focus –

Prioritize the most important goals 

Alignment –

Make sure all tasks contribute to the company goal

Commitment –

Provide transparency on who is responsible for what

Tracking –

Measure progress and do weekly check-ins

Stretching –

Strive to achieve bigger and better results 

Get the right tool, get Axy OKR & Employee Performance Management.
Using OKRs can provide great value to a Salesforce-dependent business, but it's important that the tool you're considering is built entirely within Salesforce, to access several benefits:
The tool will inherit many of the benefits of Salesforce.

You will have an experienced support team to help you throughout the implementation.

All OKR progress will update automatically as your employees work on their daily tasks.

The adoption of OKR will be intuitive and easier.

Link reports to key results for automatic tracking.

All your data and security stay on one platform.
Axy OKR will provide you with the right tools to keep track of your OKRs and be ready to prevent, change or create new ones in order to adapt and be on the right path to success.
Some features for that are:
Tree view

Planning and wrap-up

My Focus

One on ones

Review management
Try now Axy OKR FREE for 30 days or take it for a spin on the Test Drive.
Need more information? Get in touch with our team for a custom demo!