Salesforce, OKRs, and Axy OKR
91% of the organizations with more than 11 employees now use CRM systems. For that, one of the most critical decisions to make in a company is the selection of a CRM.

As you already know, Salesforce is a cloud computing service as a software (SaaS) company that specializes in customer relationship management (CRM) and is one of the most successful in the world. 
Salesforce is the CRM software market-leader for good reason: it offers a comprehensive suite of customer relationship tools, excellent integration, and unrivaled customization. The platform stands out for its flexibility, as well as the endless possibilities starting from integration or customization options to efficient training. These characteristics are the main reasons for Salesforce's dominance in the CRM market.
Some stats about Salesforce
– Salesforce is the world's #1 CRM.
– Large and small companies increased 52% in lead volume using Sales Cloud and 34 % in sales revenue.
– Sales productivity increases by up 44% with the ability to monitor team's performance.
– Salesforce will help you gain an average revenue increase of 20% and an average ROI of 50% in just over a year.
– Apps are everywhere. 71% of all Salesforce customers use apps from the Appexchange.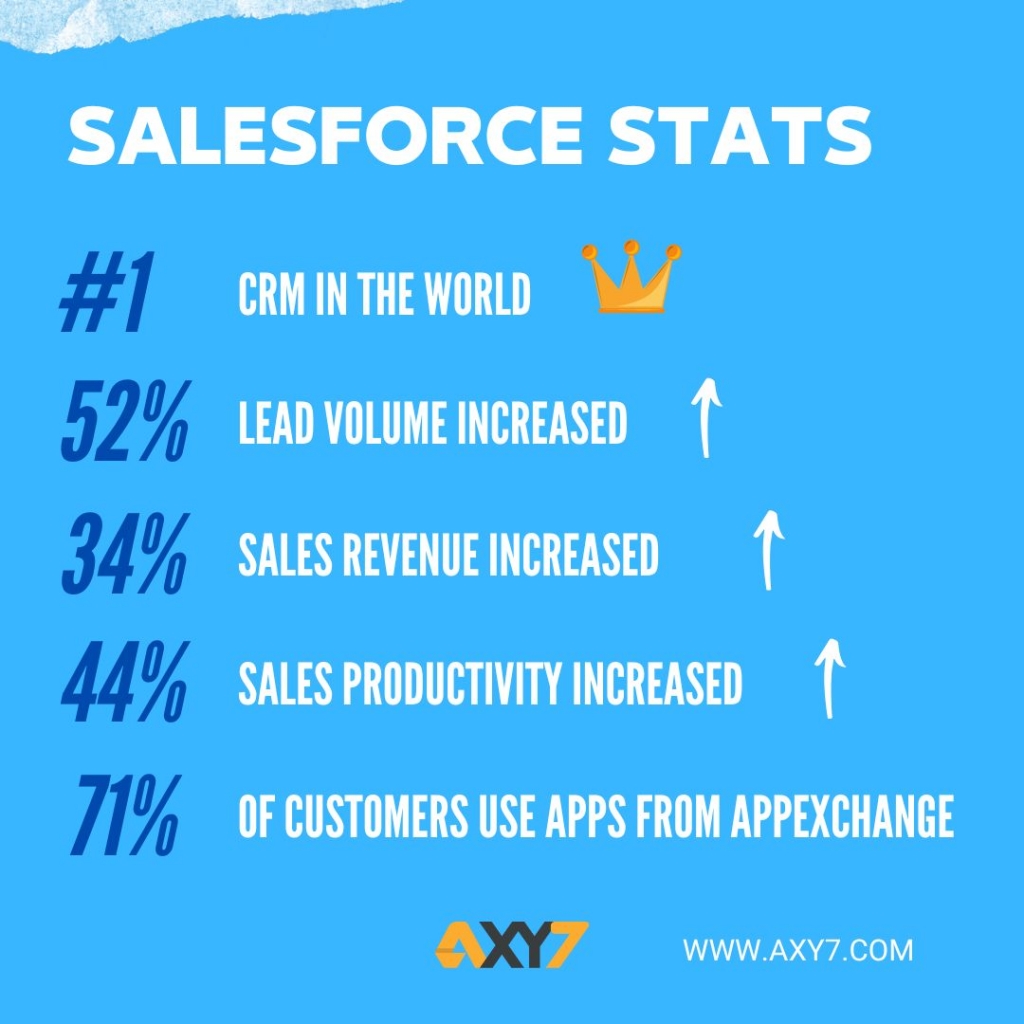 OKRs, the election of a successful methodology
Once your business is on track and you already have selected and worked with your CRM, it is time for a new step: more progress.
Progress comes hand in hand with your objectives, and one of the best ways to manage your objectives is with a successful methodology with worldwide recognition: OKRs. In the 1970s, OKR was developed by the then CEO of Intel, Andy Grove who kept two crucial questions in mind. "Where do we want to go, and how will we know we're actually getting there?"
50 years later one of the best OKR coaches in the world, Ryan Panchadsaram from Whatmatters.com said: "OKRs are a way to capture the ambitions of the team you work on. They are a way to articulate the mission, vision, the objective of what you're trying to do. And then the path of how you get there." No matter what your goal is or what area it's in, OKRs work to answer the "whats" and the "hows" for all goals, whether they are output and customer service-related to more existential, input questions, like how to build a company culture of collaboration.
You could make more research about OKRs, but just for the record take a look at some companies using them:

Google
Intel
Amazon
Adobe
Twitter
Of course, there is no magic formula for OKRs adoption. You will need to make some core changes and reorganize the way how your team works. The best way to keep track of their OKR progress in Salesforce is Axy OKR.
Axy OKR: the best partner for your Salesforce CRM
Axy OKR is a Goal Management App for Salesforce. It leverages your company's CRM implementation using the best tool available to implement the Objectives and Key Results methodology within your organization.
One of the first benefits of using a Salesforce app is that it means everything stays within one platform. Having to jump from platform to platform to get everything done sometimes is frustrating. Keeping all of their processes within one platform (Salesforce), makes it so much easier for everyone to be more efficient.
In addition, it also means that the learning curve for any new solution within Salesforce is very low because every app on the platform needs to follow the same structure when being designed which makes it very easy to learn for anyone that is already familiar with Salesforce. Everyone knows how difficult it is to get your employees to adopt a whole new platform for anything so being able to stay within the same platform they already use is extremely valuable.
Another benefit to using Salesforce solutions is that all of your data is already there, meaning that you don't have to export it to any new platform. All your employee records, reports, dashboards, etc., are already within the system and can be cross-referenced from any other app within Salesforce! This can be extremely useful when you need to implement OKRs across your organization.
Try now Axy OKR FREE for 30 days or take it for a spin on the Test Drive.
Need more information? Get in touch with our team for a custom demo!