This is how Axy OKR is integrated with Work.com
Work.com is helping organizations across the globe return to work safely following the COVID 19 pandemic with 5 new applications. The integrated command center that helps organizations centralize all their data to make decisions around how to ensure workplace safety. Additionally, the emergency response management application to help monitor the health, the wellness and the operational state of communities to ensure the response is adequate. A new feature is shift management, which will help organizations divide their labor into staff and shifts to ensure that companies don't have a complete density in the workplace because that is not possible anymore. The remaining two solutions are for compliance and wellness training and for the employee and wellness attestation experiences.
Still, wondering how to make your employees engage faster with Work.com? Axy OKR can help. We integrate easily with Work.com and our wizard can help your employees create objectives and key results faster and easier.
How does the integration work?
Axy OKR is the only performance management tool developed natively in Salesforce. You can actually download it directly from Appexchange. It will inherit all your Salesforce security/permission profiles and data as it is an extension of your current Salesforce solution.
Once it is installed you can start leveraging Work.com with Axy OKR's objectives and key results. All the objectives and key results that you create on Axy OKR will automatically be created in Work.com as goals and metrics.
Here's an example: Elizabeth creates a new objective in Axy OKR. She'll be requested to name her objective, tie it to a company goal, define the period of time she has to complete the objective and the measurement associated with the objective. Once Elizabeth has completed all the fields, Axy OKR automatically creates a goal in Work.com and relates with a lookup relationship to the Axy OKR Objective with the Work.com goal.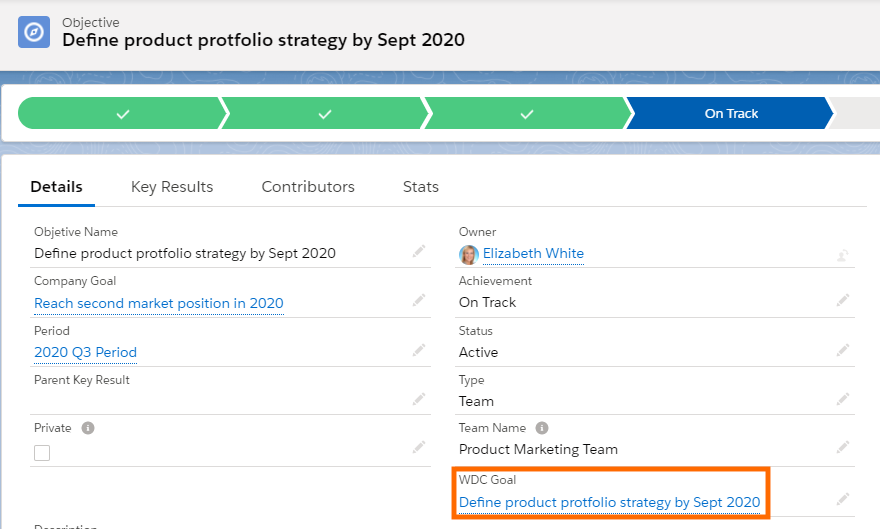 Now Elizabeth creates a key result that is associated with the objective she just saved. Axy OKR will ask Elizabeth to name her key result, select the type of result, due date and metric needed to measure her progress. Axy OKR creates a new Work.com metric when a key result is created relating to one another.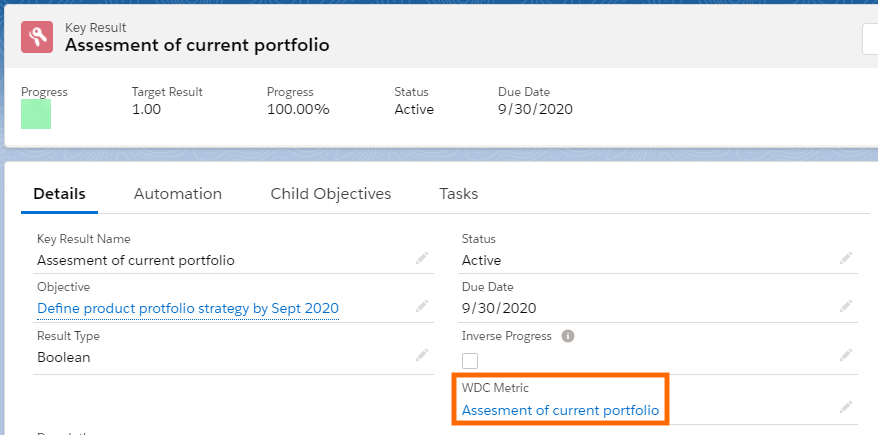 Tree View
With Axy OKR you'll have access to a powerful tool called Tree View. Imagine being able to see in a single screen your organizational chart with how every person is contributing to the achievement of the corporate goal from their own perspective, well that is exactly what the TreeView does for you. As a leader, you can identify where risks are, take immediate action and allocate resources and efforts where they are truly needed. Additionally, Tree View allows you to ensure objective alignment throughout the organization. You can actually filter and search the tree easily and go down into the corporate level you want.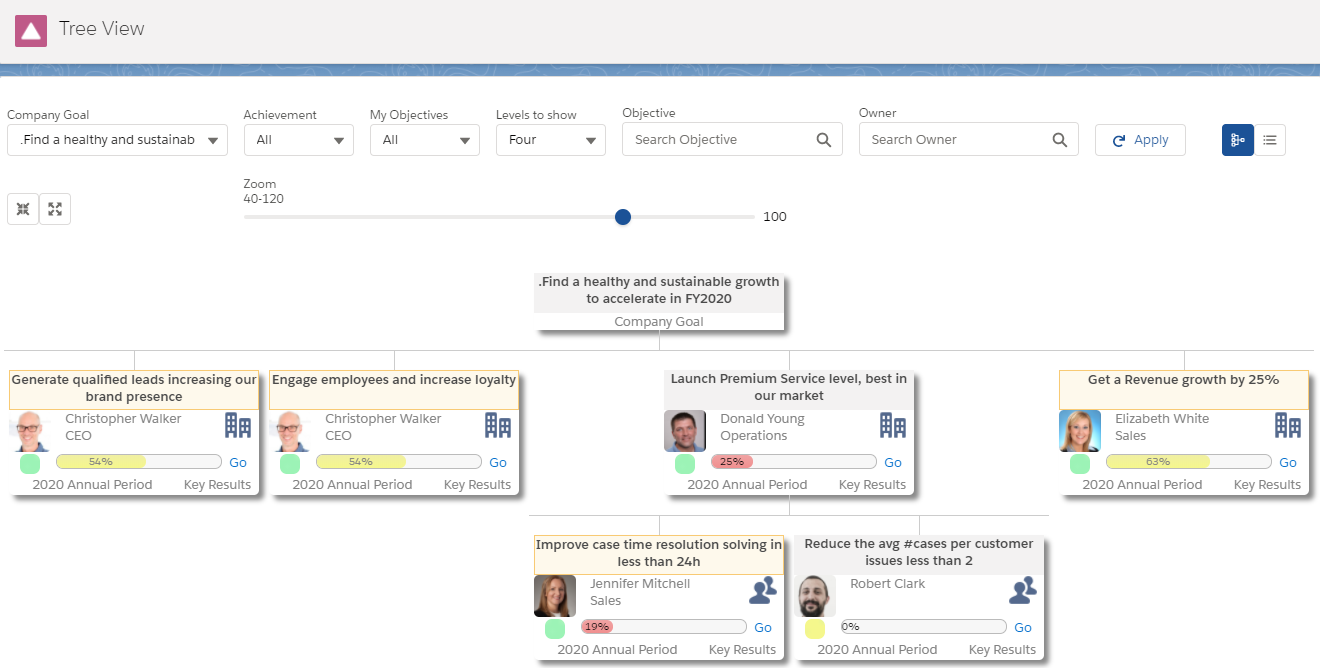 Now add this to the social capabilities of Work.com, let the people that are doing an amazing job be acknowledged by the entire organization through Chatter, reward the best with badges visible to everyone, give instant feedback and advice to those that need your help to increase their performance; and you have a true state of the art performance management system based on a proven high-performance methodology. This is something only Axy OKR and Salesforce can provide.
Conclusion
Take your organization to the next level. Axy OKR can and will help you make the most out of Work.com with a very simple integration, that allows employees to create objectives and key results in Axy OKR, guaranteeing they are aligned to corporate goals and automated reports inside Salesforce. This will make leaders inside your organization capable of giving better feedback and making accurate decisions. Leverage Work.com with Axy OKR now.