Axy OKR 
–
4 reasons why you need Work.com and OKRs
Salesforce's Work.com solution is helping businesses reopen safely, and while that is truly significant, the truth is that the command center and contact tracing tabs are just the tip of the iceberg of a much larger solution. In this post, we'll show you the real capabilities of Work.com and how your business can achieve better performance measures and results with some additional help from Axy OKR, which is completely integrated with Work.com.

You might be interested in: This is how Axy OKR is integrated with Work.com
The new normal/reality?
The COVID 19 pandemic has become a top priority for the entire world. No country, business, or person has been left unchanged as a result of this virus and in a very short period of time, entire companies were faced with the challenge of working remotely. These days, daily meetings, one on ones, and even forecasts take place in Zoom, Meet, and Whatsapp.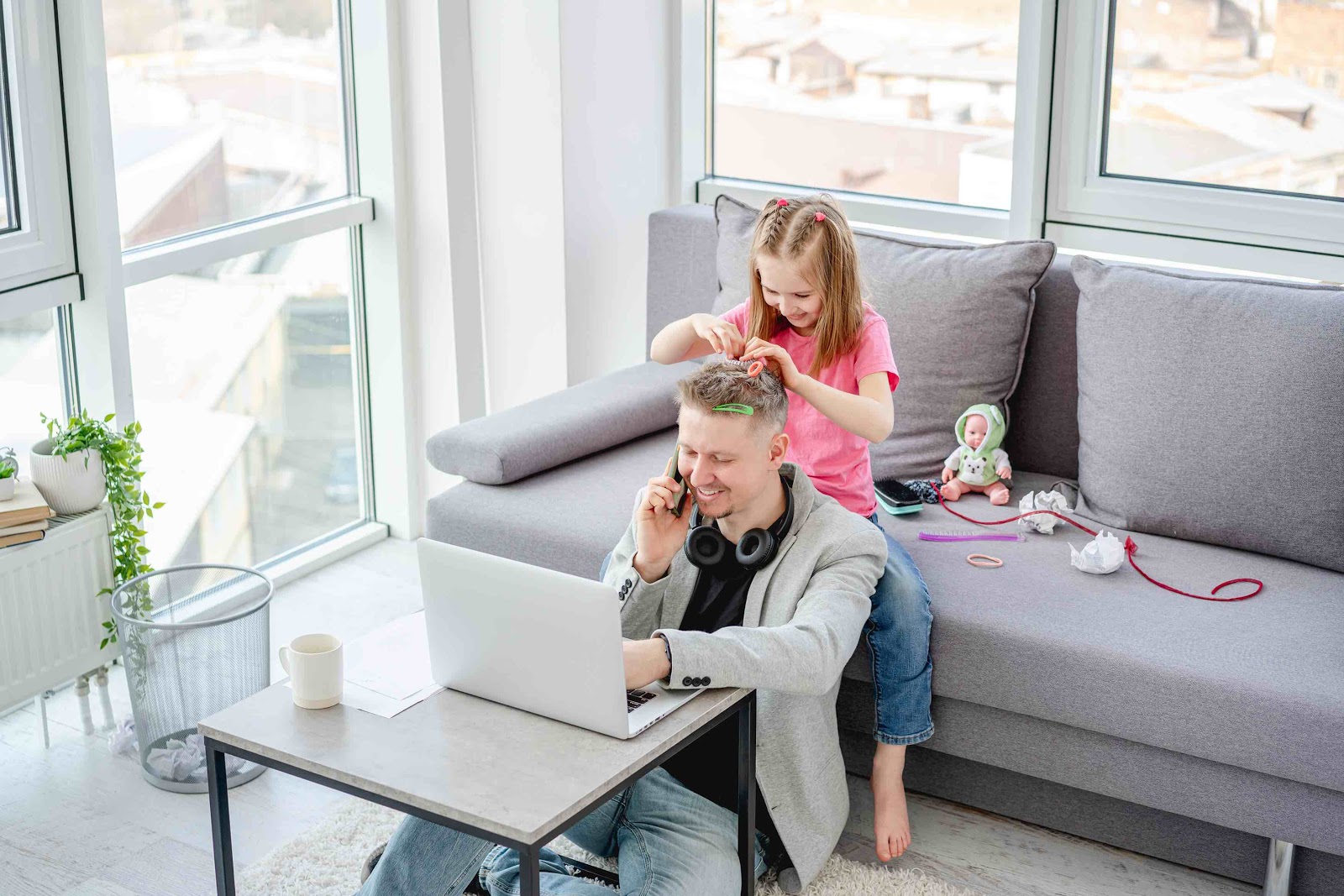 Remote work has been around for a while now, and some large companies prior to the pandemic already had some teams working from home, but now that everyone is at home, even C-level executives are faced with big challenges such as making sure everyone understands how the organization will work, how internal processes and customers requests will work, and most importantly, how to manage performance effectively to ensure that corporate goals are achieved.
This is the new reality that businesses all over the world are facing.  Not a simple task for anyone. So the question is, how are leaders ensuring that their teams are performing at their best and that alignment is ensured throughout the organization? Well, the answer has two parts to it: OKRs and Salesforce.
OKR's to the rescue!
To be honest, I'm not going to surprise you with a groundbreaking, brand new theory that has everyone on their toes. The Objectives and Key Results (OKR) methodology is the result of the work of the brilliant mind of Andy Grove, based on the work of business expert Peter Drucker, and later refined by John Doerr.

A good definition of what OKR's are is given by Whatmatters.com. "It is a collaborative goal-setting tool used by teams and individuals to set challenging, ambitious goals with measurable results. With them, you track progress, create alignment, and encourage engagement around measurable goals. An Objective is simply what is to be achieved, no more and no less. By definition, objectives are significant, concrete, action-oriented, and (ideally) inspirational. Key Results benchmark and monitor how we get to the objective. Effective key results are specific and time-bound, aggressive yet realistic. Most of all, they are measurable and verifiable. You either meet a key result's requirements or you don't; there is no gray area, no room for doubt". 
Now let's take a look at OKRs in the context of this new normal. With all your employees at home, some having to take care of their children, others struggling to get out of bed and some just MIA; as a leader, you need help to bring the best out of everyone. This is where OKRs come in. Firstly, they give people focus. With OKRs, your employees know exactly what the most important task is and what is needed to achieve it. They also help align everyone with the company goal and show them how the daily activities they perform aim to achieve it. OKRs promote transparency and commitment by having everyone compromise on doing everything within their power to achieve what has been agreed upon and by having crystal clear established metrics that are measured regularly, usually on a weekly basis, to have reference points for individual performance.
And there you have it. OKRs are a simple, yet powerful way to ensure that everyone is focused, aligned, and committed while having the capabilities to track results that promote high performance and help organizations reach what might have seemed impossible. The next step is to have the right tool to make this a reality.
The real iceberg
At the beginning of this post, I mentioned that the Work.com advertised functionalities are the tip of the iceberg and it is true. Work.com is based on Rypple, a company acquired by Salesforce almost a decade ago that is focused on human resource management.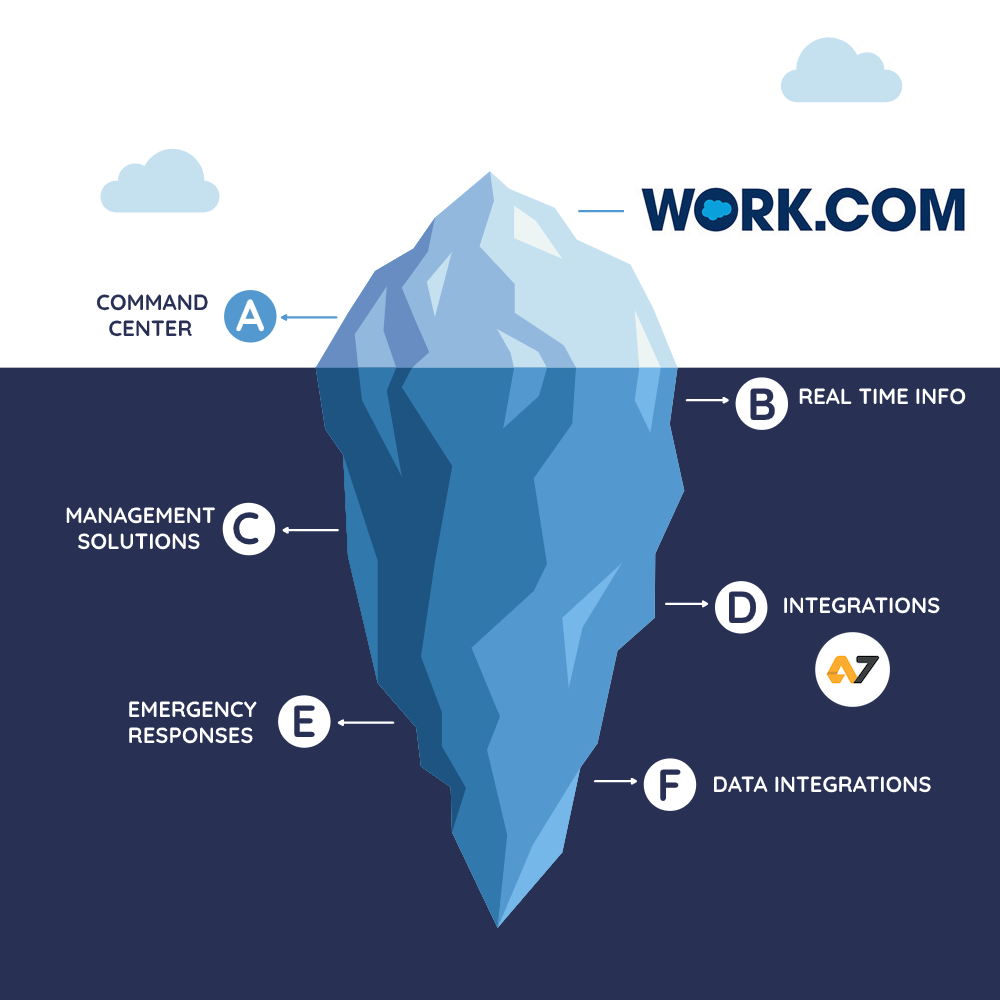 Work.com allows companies to manage the performance of their employees via goals (objective to be achieved) and metrics (how it is achieved). It is a solution that supports various methodologies, including OKRs, and has been built with a bottom-up perspective that focuses on employee-defining objectives such as inviting peers and others to collaborate on achieving an objective which is later aligned to the objectives of their boss. One of the strongest characteristics of Work.com that is based on Rypple's original solution is making performance management more social. This is achieved thanks to Chatter, where feedback can be requested and obtained quickly, badges are obtained by completing training, challenges are made public, and conversations around particular goals are enriched by C-level participation. Essentially, it is a social network approach to performance management.
Having said that, if you are using Work.com just because you want to keep your employees safe and reopen faster or if you haven't used it because you believe it's just Salesforces' way to make a quick buck during the pandemic, then you need to realize that Work.com is actually a game-changer if used to its full potential.
OKRs in Work.com
With Work.com your employees have the capacity to create goals and establish metrics that can be measured by reports created in salesforce, but there are some important parts of the performance management process that are missing. The planning process, where the leaders of the company evaluate the results obtained, the lessons learned, and the creation of new strategic directions cannot be completed with just Work.com. Once the planning is done, your employees can create goals and metrics. However, you won't be able to ensure that alignment is properly done and moreover, you also won't be able to know if your employees have a rational number of goals and metrics. Once a period is over, a wrap up needs to be done. You need global reports on the performance of individuals, teams, and the organization as a whole and the thing is that Work.com doesn't support these parts of performance management.
Fortunately for you, Axy OKR has the capacity to integrate quickly with Work.com. In case you didn't know, Axy OKR is IN Salesforce, which makes it really easy to use for your team and decreases the time you need to start using OKRs in your organization. You'll be able to successfully plan your strategy, communicate it easily with everyone, and ensure that alignment is adequately done with the use of the Treeview feature. This feature shows you how every person is performing in a single page Org Chart which is great because it allows you to deploy resources where and when they are needed and achieve the goals that are at risk. 
Make your One on Ones really valuable to your employees. With Axy OKR, you'll be able to have significant conversations with meaningful feedback, all while keeping track of everything you agree upon with your employees. Additionally, our reports connect directly with the reports you already have in Salesforce, allowing you to get the performance metrics that Work.com doesn't provide to improve how you approach One on Ones and the wrap up of your fiscal year. An important skill a leader must have is to be able to help every employee know what they should be focusing on and Axy OKR My Focus does exactly that. It gives a 360 degree summary view that simply tells your employees what they need to focus on and the activities they must strive to close.
Need more information? Download this document with five tips to manage remote teams effectively.
Conclusion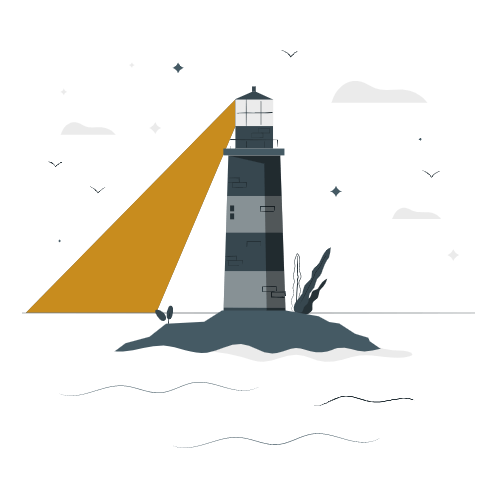 Axy OKR integrated with Work.com can help your business achieve what initially seemed very difficult in a harsh context like the one the world is currently facing. If you need to make your newly remote employees high performers while also keeping them safe, then Axy OKR and Work.com are the answer you are looking for. Help your employees understand what matters and where to focus their efforts. Get valuable feedback at the right time and measure performance like you have never done before to get unseen results. The world has changed. It is time to rethink your organization.